Saturday, April 11th, 2009
Antique toy show rolls into Celina
Show continues today at America's Best Value Inn
By Betty Lawrence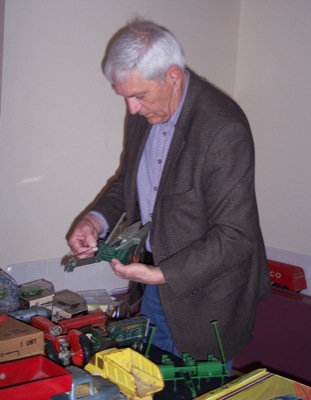 It's hard to separate the boys from their toys, and childhood memories flooded Rich Phillips' mind as he spread out a display of several large metal construction toys on a table at the Antique Toy Roadshow.
The show arrived in Celina Friday and continues today.
"I'm just a little sad. There's a lot of memories lying there on that table," he said as host Art Wade carefully inspected each item.
Wade, a representative of the American Toy Collectors, set up shop at America's Best Value Inn in Celina to offer the Antique Toy Roadshow to the public.
"I can still see myself as a kid in the 50s playing with those toys in an old orchard at my parents. We lived in the country and there wasn't much else to do. They were well used."
Wade, of Delaware, has been collecting old toys since 1975, he said, first starting out with a collection of old farm toys that he picked up at auctions and here and there.
"It expanded to the old Buddy L trucks and old pedal cars and all of a sudden, I liked it all," Wade said smiling.
He started buying and selling at displays he set up in shopping malls in the late 1980s and early 1990s before taking his love of old toys on the road in 1999.
Over the past ten years, he has seen a ton of toys come and go, he said, noting the past year has been particularly busy.
"I think it's because of the downturn in the economy. People are going through their attics and garages and see it as a way of making some money," he said.
A 1964 Oliver tractor in great condition caught Wade's eye.
"That was my first toy tractor," added the seller.
Wade, after being in the antique toy business for decades now, says he keeps many of the toys he purchases but others are sold.
"When you've been in the old toy business a long time, you know the market value very well," he said.
Wade and the American Toy Collectors will purchase entire collections, by the truckload, or a single toy, however the items they seek should be from the 70s and earlier.
"I don't buy online, though. I enjoy working with people and talking with them. There's so many interesting stories behind those toys," Wade said.
Owners of the old toys are reminded to not clean their toys before bringing them to the roadshow as important markings could be removed. Broken toys and those missing parts also are sought after.
In addition to vintage vehicles and equipment, American Toy Collectors are looking for electric trains and accessories by Lineal and American Flyer, character toys from popular television shows, pedal cars, race cars, red wheel Hot Wheels and even old lunch boxes and advertising pieces, such as signs and clocks.
"Yep, they don't make 'em like they used to," chimed in a roadshow customer on Friday as he glanced around at the dozens and dozens of metal 50s and 60s era construction toys, cars, trucks and farm equipment.