Tuesday, April 14th, 2009
Local woman working for the National Farm to School Network
Deb Eschmeyer trying to get locally grown food into school cafeterias
By Nancy Allen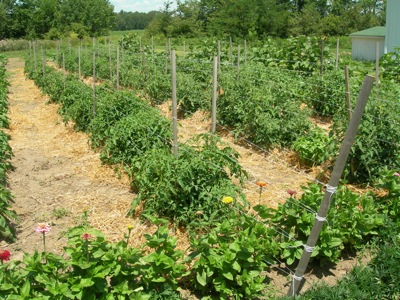 Debra Eschmeyer remembers working in her family's garden as a little girl, hoeing weeds and eating ripe tomatoes and peas off the vine. The hoeing was hard work, she said, but the delicious, homegrown vegetables the work yielded were worth it.
Today she works at the fifth-generation Eschmeyer family farm in New Knoxville channeling her passion for homegrown food into a job that makes it available to more people.
Eschmeyer is outreach director for the National Farm to School Network at the Center for Food and Justice. The network is a division of the nonprofit Urban and Environmental Policy Institute, which is housed at Occidental College in California.
As outreach director, she is trying to get locally-grown food into school cafeterias.
"The National Farm to School Network's goal is for youth to know where their food comes from and to be familiar with methods used to get food from the farm to the dinner table," Eschmeyer said. "Our main purpose is when a kid goes into the cafeteria, he or she has some knowledge of where the food comes from, or knows the farmer or where the farmer lives and has an appreciation for the community."
Earlier this year she spoke at a Coldwater Kiwanis meeting and hopes to speak with Coldwater school officials about the idea. She also recently spoke during a Sidney Garden Club meeting in March about the concept.
She recently got a call from Freshway Foods in Sidney. The company is interested in processing food grown by area farmers and getting the food into schools.
"The veggies could be minimally processed into tomato sauce, stuff like that," she said. "If you can have a hand in the processing locally, you can have a direct hand in having the most wholesome, nutritious produce processes locally without the added sugar and sodium."
Part of her job also is to work with local farmers to form partnerships between schools so they can serve locally grown food.
Eschmeyer said many people today take food for granted. The National Farm to School Network wants to change that.
The time is ripe for such a movement, Eschmeyer said, noting that the demand in some regions for locally-grown food is greater than the supply.
Prior to her job as outreach coordinator she and her husband worked in Washington, D.C., focusing on agricultural policy and food initiatives. The couple, high school sweethearts, moved back to New Knoxville July 2007 and moved to the farm in May of 2008. Both come from a farming background. Deb's family remains active in farming today and her husband's family were hog and grain farmers until 2001.
The couple is converting their five-acre farm to organic and hopes to become a certified organic operation this year.
They supply heirloom tomatoes, peppers, eggplant, onions and garlic to restaurants in Jackson Center and Versailles. Heirloom vegetables are old-time varieties that are open pollinated and have not been hybridized.
Farmers who want to participate in the Farm to School Program do not have to grow their vegetables organically, Eschmeyer said.
Their farm also supplied produce for a Veggie Mobile last year that delivered fresh produce to low income communities around Columbus. The people who run the veggie mobile also are involved with the School to Farm Network, she said.
The Eschmeyers hope to start a community supported agriculture (CSA) program in the next few years using produce from their farm. Participants in CSAs pay a membership fee, do some of the farm work and receive a basket of produce each week.
Currently they are gathering a list of interested people and the types of food they would want. They hope to offer eggs, pork, chicken, maple syrup and fresh fruits and vegetables.
Eschmeyer said the current economic situation has spurred new interest in home gardening as a money saving measure. She also noted Michelle Obama's March 20 ground breaking of a vegetable garden at the White House, reminiscent of Eleanor Roosevelt's Victory Garden at the White House planted during the Great Depression and World War II.
The White House was lobbied for months by advocates of the garden as a way to promote growing food locally and organically to promote more healthful eating. Groups wanted a White House garden planted no matter who was elected, Eschmeyer said, to raise awareness.
Eschmeyer was attending a conference of 4th National Farm to Cafeteria Conference in Portland, Ore., the day the First Lady broke ground, along with local elementary children, on the White House vegetable garden.
"It was symbolic and neat that this was happening, that our First Lady with shovel in hand, was doing this."
Another goal of Eschmeyer's is to bring the fun back into eating.
"I've met so many people who have never tasted a fresh peach off a tree or broccoli," she said. "It's fun to grow food and prepare meals, it's not fun to open a bag."
For more information on the National Farm to School Network, contact Eschmeyer at 419-753-3412.