Saturday, April 18th, 2009
Bulldogs rally around Kerr to beat Roughriders
By Ryan Hines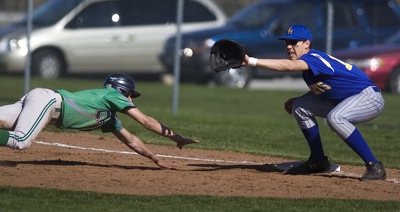 ST. MARYS - The Celina baseball team scored three runs over the final three innings and rode the left arm of Jeremy Kerr for a 3-1 victory over St. Marys on Friday in a Western Buckeye League contest at K.C. Geiger Park.
St. Marys' Trevor Kill gave the Roughriders a 1-0 lead in the fourth inning on a solo home run to right-centerfield, but the home team was unable to get anything else across home plate against Kerr and the Bulldogs.
Kerr threw three hitless innings after the Kill home run to give his team a chance at a comeback and the Bulldogs responded.
Zack Gray tied the score at 1-1 by reaching on a St. Marys error before being finally brought home on an RBI single by Darin Waterman in the fifth inning.
Celina took the lead for the first time in the sixth inning when Kerr had a one-out double and then scored on the second of four St. Marys errors in the game when the Roughriders' Jake Taylor couldn't field a routine ground ball.
The Bulldogs tacked on a insurance run in the top of the seventh inning when Jared Bader, who singled in his first three trips to the plate, was hit by a pitch to lead off the inning. Following a sacrifice bunt from Waterman that moved Bader to second base, Brian Brockly rocketed a double to left-centerfield to score Bader from second base for a 3-1 Celina lead.
It was a tense seventh inning for the Bulldogs as St. Marys loaded the bases with two outs, following two Celina errors, but Kerr worked out of the jam to preserve the win for the Green and White.
Kerr had his best pitching performance of his career with the complete game allowing just four hits and two walks with a career-best 12 strikeouts.
"I threw the curveball today the best that I ever have and I just tried to get ahead in the count and keep the ball low," said Kerr. "I was able to locate my fastball and keep them off-balance with my curveball."
"We've been talking with our pitchers to pitch like we've been pitched against," said Celina head coach Drew Braun. "When our opponents have been successful against us, it's because they have been able to keep us off-balance and that's what Jeremy did on the mound today. He spotted his fastball and then used the curveball to keep them off-balance. He has the ability to get strikeouts and he pitched as well as we've seen him."
Kerr got better as the game wore on following the home run by Kill with two strikeouts in each of the final three innings.
"He (Kerr) did a nice job on the mound and did a good job of locating his pitches well," said St. Marys head coach Denny Pfeffenberger.