Monday, April 20th, 2009
Rare bird spotted near Rockford
Smith's Longspur draws birders from Ohio, Michigan, to farm field
By Nancy Allen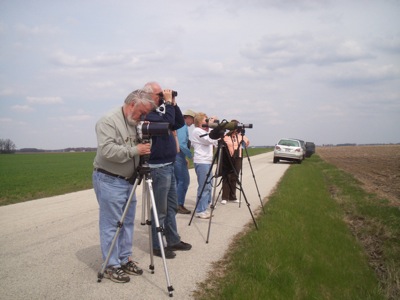 Scores of birders flocked to a farm field west of Rockford over the weekend to view a rare bird reportedly not seen in Ohio for more than 20 years.
They came from Akron, Toledo, Cincinnati, Cleveland, Columbus and some from as far away as Michigan to see the sparrow-sized Smith's Longspur, a brightly patterned songbird of the subarctic tundra.
Jan and Dick Figley, who own the field, said they were amazed at the interest the little birds have generated.
The first people came a week ago, a group of Amish from Holmes County, and asked permission to look and subsequently located them, Jan Figley said Saturday. That next Thursday, a man from Bellefontaine who is good friends with the Amish, stopped by their Rockford West Road farm and asked permission and he saw them too.
Figley said by this past Saturday morning, there were probably 40 people with binoculars and spotting scopes lining Hill Road searching for the bird in the corn stubble field, which also contained foxtail, their favorite plant.
"I've never seen anything like it," Jan Figley sighed in disbelief Saturday.
Web sites frequented by birders alerted bird fanciers to the Mercer County location, Figley said one birder told her (rarebirds.org/toledoarea). The Internet lets enthusiasts keep in contact and alert others to rare sightings around the state.
Early Saturday afternoon, there were about six people lining Hill Road, their vehicles parked off to the side.
Beth Sharlow, who drove 31/2 hours from a suburb outside Detroit, said she had seen the birds earlier, but was staying to catch a better view. Rich Meyer, Urbana, a birder since 1960, had yet to spot the bird.
"There's not been a lot of good views," she said adjusting her spotting scope. "They've been popping up."
"Then you beat me," Meyer said, his hand resting on his own scope.
Sharlow, a birder since 1990, said the Smith's Longspur spend winter in the eastern part of Oklahoma, western part of Arkansas and a small section of Texas. Then in spring they migrate to the western shore of Hudson Bay in Manitoba and the north part of the Northwest Territory in Canada. During their migration they make stopovers. This year they picked here, she said.
There were several others watching who also had never seen the bird in their lifetime.
The group talked while they waited, sharing bird stories and how addictive the hobby is.
"It's definitely a disease," said Paul Sherwood from Sandusky. "You start sleeping with binoculars under your pillow."
"And you take them into McDonald's because you're afraid you're going to miss something," Meyer added.
Sharlow, Meyer and several others watched for about 45 minute, but only spotted horned larks and a few types of sparrows.
The group, now numbering about eight, was starting to get dejected when a flock of about 15 birds made its way across the field. They trained their binoculars on them.
"Those aren't horned larks," Sharlow said, excitement in her voice as the others looked and agreed.
The flock landed in the field about 150 yards away and everyone repositioned themselves, but the birds could not be seen in the corn stubble. Finally someone further up the road spotted about six taking a bath in a puddle. It was Meyer who got his scope on them first. He stepped back and let others view the rare find.
So as not to move the scope, Meyer got down on all fours and let 11-year-old Joe Seymore climb on his back to look into the scope and see them.
Dan Gertiser, Seymore's uncle, then stepped up to the scope. Afterwards he did a little dance, a huge smile on his face. It was his first time too. He and his nephew had traveled from Michigan.
"Now that was worth a 31/2-hour drive," Sharlow said. "That was worth it."

To view bird:
To view a photo of Smith's Longspur go to www.roysephotos.com/SmithsLongspur.html.
Bill Whan of Columbus Audubon Avid Birders, said in a Web article about Smith's Longspur that the Ohio migration of the bird has slowed to a trickle, but you can find them if you find their habitat. Any quite large, fairly flat field in the western half of the state with foxtail is well worth studying, he said.