Wednesday, April 22nd, 2009
Lady Cavs back in MAC contention
By Mark Ruschau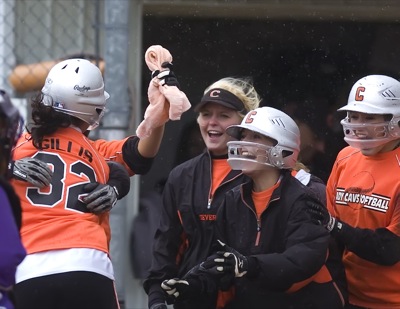 COLDWATER - Although the Midwest Athletic Conference softball is less than a week old, coach Jeff Kerr and his Coldwater softball team had their backs to the wall as they had lost their opening game to Parkway.
Knowing they could not afford another loss as they played host to the Fort Recovery Indians in another conference match up Tuesday afternoon. The game, originally set for Fort Recovery, was moved to the Cavalier home diamond,
Kerr's ladies responded as they rode timely hitting to a 6-3 win.
With the win, Coldwater improves to 6-4 overall. Fort Recovery falls to 0-2 MAC and 5-6 overall.
"We knew this was a win we had to have because it puts us at 1-1 and we are still in the conference," said Kerr. "The last two years, the winner of the conference had at least one loss and we know that the league is so balanced that anybody can beat anybody and know we have to come out and play the rest of the games, one at a time, starting with Versailles on Thursday on the road."
The story of this game was simple, the Cavaliers were able to produce runs when they had the chance while Fort Recovery struggled with runners in scoring position.
On the night, Coldwater stranded just two base runners while Fort Recovery left runners on the bases, including six in scoring position.
Coldwater jumped on the board early as lead off batter Haley Stucke doubled to shallow left, went to second on a sacrifice by Robin Buschur and scored on a single by Teresa Hess.
"It is nice to have someone like Haley at the top of the batting order, with her speed she can get on for us and it opens a lot of things, like steal bases, hitting behind her and hitting and runner" said Kerr. "She was able to get on early in the game and she scored which gave us the early lead, something you always like to have."
Fort Recovery scored single runs in the second and third but could not come up with a big hit that could have produced a big inning.
In the second, Kelly Thien singled with one out and scored on a double to left by Amy Hart. Hart was stranded at second when Kelly Sudhoff bounced to third.
In the third, Josie Guggenbiller doubled with one out. After Carly Staugler walked, Kinsey Wenning bounced to third for the second out but Joanna Snyder produced the run when her ground ball was booted at second, with Staugler taking third. The inning ended again without major damage as Kelly Thien bounced out.
"We left a lot of people on base tonight," said Fort Recovery coach Marie Osterholt. "We just could not come up with a big hit when we had the chance. We just have to come and continue to play hard and I think the hits will come."
Coldwater came back in the top of the fourth, scored four times to take the lead for good. Carly Schlater led off the inning with an infield hit. Ashley Waters singled with Schlater taking third. Kelsey Lefeld then hit a comebacker to the mound and Indian pitcher Kinsey Wenning caught Schlater off the third base bag for the first out. Leah Muhlenkamp hit a ground ball that was bobbled by Indian second baseman Carly Staugler for an error that loaded the bases. Brooke Gillis came up with the big hit of the game as she unloaded a grand slam to straight away center for a grand slam home run.
"We had a couple of ground balls that we should have fielded in the middle of that inning that would have gave us a couple of outs and they got the big slam and suddenly we were playing from behind," said Osterholt.
"Brooke got a pitch that she could hit, got a good swing on it and it went over the fence," said Kerr. "I thought Brooke not only got a big hit for us but I thought she also pitched a good game."
Fort Recovery is back in action on Thursday as they travel to Minster for another conference game. Coldwater travels to Versailles for MAC play.