Thursday, April 23rd, 2009
Boeckman hopes for a call from the NFL
By Gary R. Rasberry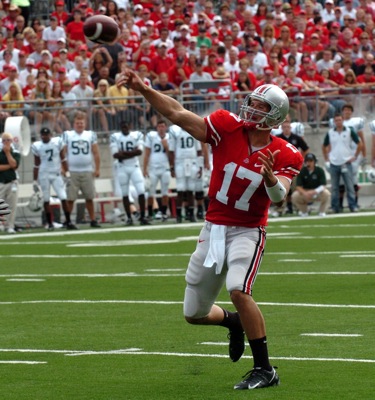 This weekend, Todd Boeckman will hope to take advantage of the warm and sunny weather, get a round of golf in on Saturday, then spend time with friends and family as well.
But the former St. Henry and Ohio State quarterback is also hoping to hear a phone call from one of 32 teams in the National Football League.
While Boeckman concedes that the call won't come Saturday, when the first two rounds of the 2009 National Football League Draft takes place in New York City, he hopes he isn't forgotten when the later rounds come in Sunday. He could either be selected in rounds three through seven or get a call to sign as a free agent if not drafted.
"I'm looking forward to it," said Boeckman in a telephone interview. "The thing about the NFL Draft is that there's a lot of unknowns. I've been getting a lot of calls from teams, scouts and coaches and what-not. You don't know what's going to happen. In my situation especially. Who knows if I'm going to be drafted in the fourth, fifth, sixth, seventh or (signed as) a free agent. I'm just hoping for the best."
Boeckman, whose 3,085 career passing yards at Ohio State is 10th all-time and 31 career touchdowns is good for ninth all time, got a chance to show his work at Ohio State's Pro Day in March. Working with teammates, Boeckman showcased his skill under the watchful eye of scouts and representatives from almost every NFL team.
"I thought it went really well," said Boeckman. "Almost every NFL team had some sort of representative. It was my time to shine. You go out there, and I wasn't really nervous at all. It was kind of like another practice. Every practice we have people watching.
"Having my receivers out there to throw to made it all that easier. It helped me out to have those guys around."
Boeckman has been keeping in shape in Columbus, working out at the Woody Hayes Athletic Center and practicing with fellow former Buckeyes who are also looking to get the call this weekend. Several of the receivers that Boeckman has thrown to over the years - Brian Robiskie, Brian Hartline and Rory Nicol - along with running backs Chris "Beanie" Wells and Maurice Wells have worked out with Boeckman.
"It's a comfort level," said Boeckman. "Fortunately, being at Ohio State, usually a lot of the guys stay back instead of getting private trainers or going somewhere to work out. We have guys willing to train us at Ohio State on our strength staff. It's a lot easier for us. We're at home. We're with our own guys at our facility and our comfort level is great.
"To have our guys, Hartline, Robiskie, Nicol, Brandon Smith, all the running backs, at my disposal, we're all there pushing each other and trying to make each other that much better. It just helps us."
To help out with the entire process with teams, Boeckman is working with agent Neil Cornrich, who represents Pro Bowl linebacker Mike Vrabel and other former OSU players and coaches on the college and pro level.
"Coming out of college, you don't know the whole process," said Boeckman. "Those guys have been through it. Neil represents a lot of college and NFL coaches. He's done a great job. He's really helped me with this process to help me understand where I need to be.
"I got a lot of calls from teams, took a visit, had some workouts with some teams," said Boeckman. "Like I said, it's an unknown for (teams), too. They don't know who's going to be left on their draft board or who's going to be when and where."
Boeckman has some hope - and examples - when it comes to his chances. Matt Cassell, who came in to start for New England when Tom Brady was injured and now is in Kansas City, never started a game at Southern California (USC) as he backed up two Heisman Trophy-winning quarterbacks in Carson Palmer and Matt Leinart before being drafted late in the draft. James Harrison was signed out of Kent State as a free agent by Pittsburgh and was last season's NFL Defensive Player of the Year.
"I think every year there's players at every position that go through this, be it drafted or undrafted free agents," said Boeckman. "Look at this past year with James Harrison. You just never know. Guys might have a decent college career and may barely play at all or be an All-American. You don't know how it's going to turn out at the pro level. You just have to go and compete."
While some of the potential first round draft picks will dress up and be in New York City to walk to the podium when their name is called, Boeckman will be home, spending the weekend in St. Henry.
"I might do a little golfing on Saturday," said Boeckman. "Sunday, I guess (I'll) wait by the phone and hang out with the family at home and just wait and see what happens."