Friday, May 8th, 2009
First ag leadership program participants give it thumbs up
By Nancy Allen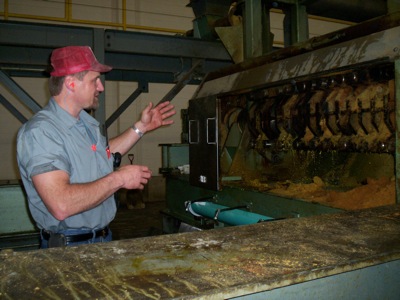 Organizers of the Mercer County Agriculture Leadership Program hope to offer the program every other year after the first class deemed it a success.
Participants talked of their experiences during Thursday morning's monthly Mercer County ag breakfast meeting in Celina.
"When we first started planning this we decided we'd be happy if we got 10 participants, but we had 19," said Nikki Hawk, one of the organizers and also the Mercer County Soil and Water Conservation District administrator/education specialist.
The class was organized to raise awareness of agricultural diversity and issues in the county and encourage participants to become leaders in advocating for agriculture.
Participants met one day a month for seven months starting with the first session in November and the last on Thursday. Some of the sessions included visiting area livestock agriculture facilities, a fish farm, a winery and hearing from ag industry officials about grain marketing, farm loans and issues affecting the industry.
The group also traveled to Chicago to visit the Chicago Board of Trade and to visit a 2,800-head dairy farm in Fair Oaks, Ind. The group plans to hold a picnic in June for participants, their families and participants' employers.
Participants included livestock and grain farmers, feed providers, turkey growers, a seed company representative, a member of the media, a farm loan officer, a person working in animal genetics and others.
Hawk said there is some talk about possibly adding a partner program that would target non ag people.
"Maybe do a city exchange where we send some of our leaders to cities, the three Cs, Cleveland, Cincinnati and Columbus, and then bring some of their leaders out to show them our area," Hawk said. "I'd also like to look into a state exchange maybe with ag people from Indiana."
Thursday's final session included visiting Mercer Landmark's soybean extrusion plant in the village of Rockford that produces soybean oil, the Van Wert County OSU Extension to speak with popcorn farmers Dave Almandinger and Dale Profit, and D&D Ingredient Distributors, a $65 million per year family-owned business near Delphos that supplies feed ingredients.
The next Mercer County ag breakfast is 7:30 a.m. June 4 at the Mercer County Central Services Building in Celina.