Saturday, May 16th, 2009
Cavs and Flyers move on to districts
By Mark Ruschau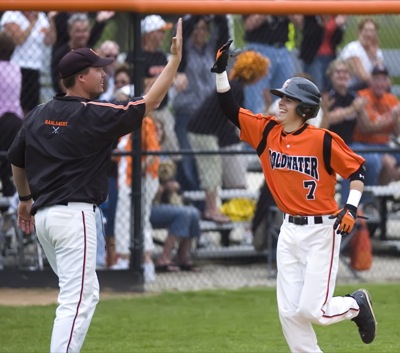 COLDWATER - The Marion Local Flyers used timely hitting and took advantage of some shoddy play by St. Henry's defense to upset the number-two seeded Redskins 7-6 in the nightcap of the Division III sectional finals Friday afternoon at Veterans Field.
In the opener, the number-one seed and host Coldwater Cavaliers used a strong pitching performance from senior hurler Corey Klenke to defeat the Parkway Panthers, 8-0.
With its win, Marion Local improves to 14-9 and moves on to district play Thursday afternoon at 2 p.m. at Ed Sandy Field in Elida against the Ottawa-Glandorf Titans. Coldwater will take a 25-2 mark to Elida next Thursday at 4:30 p.m. where they will take on the Evergreen Vikings.

Marion Local 7, St. Henry 6
The nightcap added another chapter to the St. Henry-Marion Local sporting rivalry as the two teams played a wild affair that featured 21 hits, eight for extra bases, and the two teams combined to commit six errors and came down to the Flyers making a few more plays than the Redskins.
"I just I have to tip my hat to my seniors because they were the ones that really got us going tonight," said Marion Local coach Greg Bruns. "The seniors had a heart to heart with the team on the bus ride over here , lets go out and get a win. The time for talking is over and it is a great feeling to get the first sectional here in quite awhile."
"We really hit the ball well tonight, we had 12 hits and had several balls that were hit hard but we still did not make enough plays," said St. Henry coach John Dorner. "We did not make the play when we needed it and we did not make the pitch when we needed it. There were just crucial situations were we did not do what we needed to do.
"This the third year in a row that we have come here to the sectional and lost a one-run game and not have had a real sharp defensive game," continued Dorner. "I felt good coming in, we just did not have a solid game tonight."
After falling behind 1-0 after the first inning, Marion Local tied the game in the top of third when Travis Winner homered to leftfield.
St. Henry retook the lead scoring three time in the bottom of the third to take a 4-1 lead. An RBI single by Nick Rindler and an RBI double by Jordan Post highlighted the rally.
Marion Local cut the deficit to 4-3 scoring a pair of runs in the top of the fourth. After Monte Imwalle walked and Troy Prenger singled, Jason Wolters doubled to the gap in right-centerfield, plating two runs.
St. Henry rebuilt the lead to 5-3 in the bottom of the fourth as Tyler Bruns tripled and scored on a wild pitch.
Imwalle's mates got him the run support he needed as Marion Local scored three times in the top of the fifth to take the lead for good at 6-5. Nathan Thobe started the inning with a double to right. St. Henry pitcher Nick Bruns appeared to have worked out of the jam as he got Jarren Griesdorn to fly out and Tyler Thobe to pop out.
However, the wheels then came off Bruns and the Redskins, as he wild pitched Thobe to third and walked Ben Smith who stole second. Marcus Moeller then hit a ground ball to the hole at shortstop, where Post made a great stop on the outfield grass but made a wild throw to first base allowing both Thobe and Smith to score to tie the game. Prenger gave the Flyers the lead for good with a single.
Marion added an insurance run in the top of the sixth as Nathan Thobe singled, went to second on a sacrifice bunt and scored when Zach Fishbaugh threw away Tyler Thobe's ground ball.
"We faced Nick Bruns earlier this year and we knew that he was going to throw it in the strike zone and we just need to put the ball in play," said coach Bruns. "Hitting is contagious, once one guy started hitting, everybody started hitting and we put the ball in play and good things happened."
Coldwater 8, Parkway 0
Cory Klenke showed why he is considered one of the top pitchers in the Grand Lake area as he was in complete control of this one as he completely overpowered the Parkway offense. Klenke allowed just four hits in pitching the complete game shutout. The senior walked just two batters, while striking out seven.
"Parkway came out and put some pressure on us in the first inning but Cory, being the veteran that he is, settled down and pounded the strike zone," said Coldwater coach Brian Harlamert. "Once he gets ahead by a couple of runs, he gets even harder to hit and he showed that tonight."
"I do not want to take away anything from Cory Klenke, he pitched well. I think we just went up the plate and took too many strikes and that put us in a hole too many times," said Parkway coach Eric Stachler. "You know a guy like Klenke is going to be around the plate and you have to look for that first good pitch, so that you don't put yourself in a hole.
"I was little disappointed in my guys," continued Stachler. "We came out flat, yeah we got a couple of hits early, but we don't do anything with them, it is frustrating because you know every run is going to be huge and we just did not make the plays and they showed why they are 25-2."
Klenke had just one major jam on the day and that came in the first inning. Taylor Bates led off the game with a single, and after Grant Gray bounced to third, Bates went to third, when Coldwater third baseman Keith Wenning threw away a ground ball off the bat of Levon Archer. Klenke was able to work out of the jam by inducing Chad Luginbill to bounce into the inning-ending double play.
Chad Westgerdes and Zach Siefring, the first two batters in the bottom of the first, provided Klenke with all the run support he would need as Westgerdes led off the frame with a triple to right and Siefring followed with an RBI sacrifice fly.
Coldwater added some insurance runs in the bottom of the second as it scored twice with two outs. Adam Rammel led of with a single. After Tony Harlamert flew out and Aaron Rammel grounded out, number-nine hitter Alex Geier took the first pitch he saw from Archer over the fence in straight away left to make the score 3-0.
"We got a lead-off triple in the first inning and we should of scored a run and we did," said Harlamert. "We got two more in the second on a two-out, two-run homer by Alex Geier and that was big. You do not expect that from your number-nine hitter, but we feel good about our entire lineup, one-through-nine to go up to the plate and be aggressive and Alex proves it there in that at-bat.
"Those three runs were big because it gave the confidence that we needed because we knew that Cory was on the mound and he was going to pound the strike zone," continued Harlamert. "We scored a few more and we will take the shutout and the win."