Thursday, May 28th, 2009
Teacher retiring after 47 years
By Margie Wuebker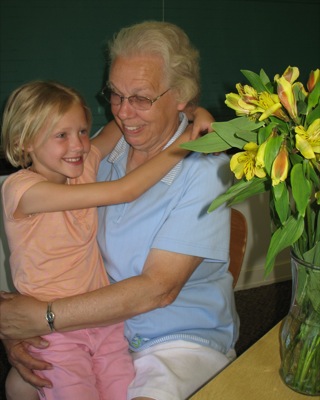 MINSTER - Dianne Voskuhl looks around Room 206 at Minster Elementary School, remembering a succession of second-graders in need of instruction, lap time and animal crackers.
After making sure everything is in order, she walks toward the hall and takes one more backward glance before closing the door on a career spanning 47 years.
"I always enjoyed working with and being around kids," she says. "The attraction goes back to my high school days when juniors and seniors had an opportunity to help younger students with reading and the like."
Following graduation from Minster High School in 1960, she attended Bowling Green State University for 31/2 years and then began teaching under a cadet program. She completed all requirements for a bachelor's degree the following summer.
Unlike many new teachers, Voskuhl never faced the daunting task of submitting resumes or sitting through job interviews. Superintendent F.T. Lang approached her in January about a teaching opportunity in the fall.
She bounced from third to first grades during the first eight years before moving to second grade for the ensuing 39 years. She enjoys the lower grades, pointing out youngsters come eager to learn without obnoxious tendencies that frequently develop over time.
"Children are more prepared for school today thanks to preschool and kindergarten," she says. "Those programs did not exist years ago and kids are exposed to so much more thanks to computers and television."
When asked about other changes over the years, Voskuhl says more paperwork and lesson planning.
"I remember a time when school officials didn't worry about state report cards or the sun rising and setting in achievement tests," she says.
While lessons and good student performance are important, the veteran teacher firmly believes in hugs and laptime, both of which she doles out in generous proportions for birthdays and various achievements.
"A hug means everything to a child," she adds. "It costs virtually nothing but makes the recipient as well as the giver feel good."
Students also enjoyed animal crackers - vanilla and chocolate - from her stash in a tightly covered jar on the window sill. She laughs softly before explaining how some youngsters will gobble their reward for turning in assignments on time or doing well in various subjects. Others prolong the treat with dainty nibbles.
"I do believe some kids can get 550 bites out of one small cracker," she adds. "At least it seems that way."
The neat-as-a-pin classroom at the top of the stairs has been a second home over the years. She attended some high school classes there, and it has served as a window on the world for her second-graders.
"You see all sorts of things - farms in the distance, puffy clouds, a jet leaving a vapor trail across the sky, the water tower, street construction and a whole lot more," she says. "A teacher can corral what children see out there and incorporate it into the lesson at hand."
The decision to retire from teaching came easier than expected, she says. However, she plans to remain as junior high track and field coach, a post she has held for 34 seasons.
Voskuhl and her husband Ralph, who drives bus in the morning, for district sporting events and for St. Augustine CCD classes, enjoy traveling. They have a number of bus excursions planned. She and neighbor Alice Moorman plan to continue daily bicycle outings and there is a 1,000-piece jigsaw puzzle waiting on the screened-in porch.
"Some classes were good; some classes were better; some just left you wondering," she says recalling the steady stream of students who passed through her classroom. "I always knew this day would come and I'm ready. I expect the first day of classes in the fall will be a different story. The school bell will ring and somebody else will welcome a new batch of second-graders."