Saturday, May 30th, 2009
MAC teams sweep regional track championships
By Bruce Monnin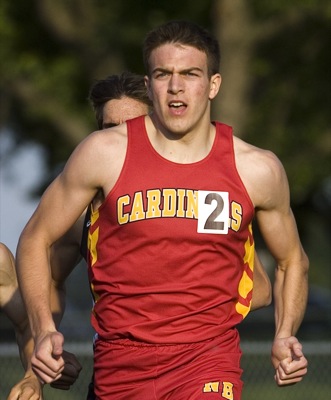 TROY - The regional track meet can be thought of as two competitions in one.
The top teams compete against each other for the right to be crowned regional champions, but for athletes on teams that are not in overall contention, the goal is to finish in the top four in order to qualify for the state track meet.
The Midwest Athletic Conference achieved great success at the Troy Division III regional track meet. Of the 26 individual events contested, MAC athletes claimed first place in nine of them, as well as winning six of the eight relay races. Meanwhile, 13 other MAC relay teams and 18 other individuals also qualified for the state track meet by finishing in the top four of their events.
The team championships were dominated by local teams. The New Bremen boys won a regional team championship for the second straight year, scoring 83 points to outdistance second-place Minster with 47 points. The Versailles girls won its half of the meet for the third consecutive year, scoring a whopping 104 points to finish ahead of second-place Fort Loramie (82 points) and third-place Minster (47 points).
For the New Bremen boys, it was a third championship to go along with two runner-up finishes in the last six years.
"It is because of the athletes," explained New Bremen coach Gary Jones. "The guys have confidence that they can win. It is their goal now. Plus the alumni care and come back to help. Zach Speckman talked to (2008 double state champion) Bryce Bergman about the hurdles just last night."
The Cardinals ran to victory behind three event wins and two second-place finishes. Jeff Kremer won both the 800- and 1,600-meter runs, while anchoring the second place 1,600-meter relay team. During the anchor leg of the 1,600 relay, he appeared to be getting ready to pass the Versailles runner for the win.
"I slowed and followed him around the corner because I didn't want to go outside," described Kremer. "But the Versailles had a kick too and I didn't catch him."
Kremer tied his personal best time in the 1,600 and set his new personal record in the 800 by two seconds. Kremer said the competition had something to do with it, but he also seemed motivated by the presence of his grandfather at the meet.
"He's a really cool guy," bragged Kremer, who was the valedictorian at New Bremen this year. "I just found out he was a valedictorian too, but he says there were only about eight people in his class."
The Cardinals also received a win from Matt Sindelar, who set a personal best by clearing 6-6 on his first try.
"I was so excited, it was my first time ever clearing 6-6," described Sindelar. "I skimmed the bar with my bottom. It wobbled a bit but stayed up."
Other New Bremen boys will also be traveling with the team to Columbus next week. Zach Speckman placed second in the 300 hurdles and Justin Eilerman finished fourth in the 3200 run. The 800-meter relay team also qualified for state with a fourth-place finish.
Minster's second place team finish was anchored by the first-place performance of its 800-meter relay team, a veteran squad of junior Ty Whitford and seniors Bryan Phlipot, Tyler Richard and Jordan Boeke which broke the school record and just missed setting a new meet record.
"We all ran solid races and had good handoffs," described Richard. "We just gave it our all."
Also going to Columbus are the Wildcats' 400-meter relay team (which also set a new school record while finishing second), Jake Phlipot (second in the shot put while setting a personal record), Albert Barga (third in the 100-meter dash), and Joby Stechschulte (fourth place in the 800-meter run).
A few other area boys will be traveling to Columbus next week. St. Henry's Michael Goettemoeller and Marion Local's Ben Fortkamp finished third and fourth in the 110-meter hurdles, while Versailles will be sending its first place 1600-meter relay team and third-place finisher Damian Winner in the 400-meter dash.
On the girls' side, Versailles was challenged by Fort Loramie, so it needed all three event wins and the four runners-up it earned on the day.
Versailles received wins from their 400-meter relay team and from Christine Borchers in the discus while also finishing first and second in the 1,600-meter run with Tammy Berger and Mary Prakel. Mindy Henry placed second in the 800-meter run with a time that was better than the old meet record, the Tigers' 1600-meter relay finished second, the 800-meter relay finished fourth and Berger and Prakel teamed up again for second- and fourth-place finishes in the 3,200-meter run.
Minster's third-place performance was led by Sarah Huelsman's victory in the pole vault. She was the only athlete to clear 10-2, a height she had only previously cleared when she went 10-3 at the district meet last week. Huelsman made the vault on her first attempt, though she admitted, "the bar was bouncing."
The last two weeks she has vaulted much higher than she had all season, for which she credits some help from family and teammate Kayla Wuebker (who finished eighth).
"We (Kayla and I) worked hard all week," said Huelsman. "My dad also helped a lot."
Three other Wildcat events qualified for the trip to Columbus. Jessica Albers finished third in the 1600-meter run, Alyssa Kemper placed fourth in the 200-meter dash and the Wildcats' 1600-meter relay team finished fourth.
There were two other event wins from local girls. Parkway's Marian Bevington continued her dominance of the 100-meter hurdles, setting a personal best time of 14.84 and just missing the meet record of 14.80. At the regionals she was challenged more than in the past few weeks.
"When I came in I knew I was going to have competition and I was going to have to challenge myself," said Bevington.
Bevington got a quick start in the race and pulled away from the field early.
"I felt good coming out of the box," continued Bevington. "I kept pushing myself and it paid off."
The other local win came from the Marion Local 800-meter relay team, who defended their title from last year. They just edged out Versailles, and set a new school record in the process.
"We whipped it. We went out and did our best," exclaimed happy senior Kristina Bruns.
The other senior on the team, Elizabeth Reichert, thought she knew another reason for their fantastic performance.
"We had awesome handoffs," said Reichert.
The Flyers' 400-meter relay team, which also consisted of those same two seniors as well as Rachel Hess and Allison Bruns, also qualified for state by placing fourth.
Two other area girls performed well enough to move on to Columbus. St. Henry's Carmen Moorman posted a third-place finish in the 400-meter dash and New Bremen's Jaclyn Dabbelt will be joining her with a fourth-place finish in the discus.