Thursday, May 7th, 2009
Students complete service day before rain falls
By Janie Southard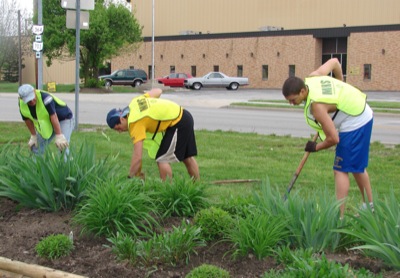 ST. MARYS - High school students in neon green safety vests were all over town Wednesday morning pulling weeds, washing windows, mural painting, cleaning up the canal and more. They dashed from buses to the high school for their free lunches just as the first sprinkles of rain began.
Postponed from April 30 due to weather, Pay It Forward Day was a one-day session where 740 high school students fanned out around town along with faculty and community chaperones giving their time and effort to improve the community. Of the student body, 13 students chose not to participate and spent the school day in study hall.
The Daily Standard talked with a dozen students working in various locations, polling them on overall opinions of the day of volunteerism. The majority of the group were positive, mostly about teaming up with other students and teachers to work together for something good.
Students lending a hand at the Mooney Museum gave their chaperone Larry Kill their phone numbers.
"They told me they'd like to come back and finish the job," Kill told the newspaper.
Stacie Powell, director of sales and marketing at Golden Living Center, said the residents were "really looking forward" to the day with the students.
"It has been great having the students here this morning. They've talked with the residents and played board games ... helped in the kitchen and washed windows, painting the beautiful wall mural in the Alzheimer section. It's just been wonderful," Powell said.
Sue Zink, high school guidance office secretary and an event organizer, said she believed the kids learned a lot simply by getting out of their comfort zone.
"Students were selected randomly for the various work groups, so they were with people they wouldn't normally be with. They may even have been with teachers or faculty members they're not fond of," Zink said, adding school attendance was above average Wednesday.
Only one student said he felt pressured to volunteer for the day's activities, although he wasn't completely against the idea.
"If you skipped this, you get a zero for the day," said Hunter Lininger, a freshman, adding his teachers "pushed very hard" for volunteers. School policy is that students who miss any school day without a written excuse will receive a zero for the day.
Lininger, who was among the group cleaning up the hospital grounds, acknowledged it was nice to be outside rather than in school.
"It's better than algebra," he said. "I guess I have mixed feelings. It is nice to help the community look better."
This first-time school event was not without controversy. One community member, Bob Valentine, has been vocal with a number of objections, such as the cost of the day and his belief the students were not given the opportunity to volunteer but that it was forced labor.
At the last school board meeting, he said he would not object to the idea if it were held on a non-school day. Board member Eric Langsdon agreed.
School administrators now will begin to evaluate the day's activities and solicit comments from students, staff and community members before deciding if the day will become an annual event.