Friday, June 5th, 2009
Tourney run ends for Cavaliers
Coldwater loses in state semifinal for second straight year
By Gary R. Rasberry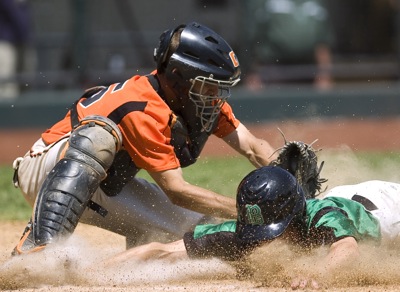 COLUMBUS - For the Badin Rams, it was a heads-up play to take the lead.
For Coldwater, it was another heartbreaking way to end a stellar season.
Scott Purcell's dash to an undefended home plate on a ground out completed Badin's comeback from trailing 3-0 to move the Rams past the Cavaliers, 4-3, in the Division III state baseball semifinals at Huntington Park in Columbus on Thursday afternoon.
The Rams (29-2) face Indian Valley at 10 a.m. on Saturday for the state title, the second straight season Badin has played in the title game. Indian Valley beat Garrettsville Garfield 7-4 in Thursday's first semifinal.
The Cavaliers, playing in the state semifinals for the second straight year and for the fourth time since 2000, ends the season at 30-3.
Coldwater scored three runs off Ohio State-bound Brett McKinney in the second inning, but was unable to hold on against the Rams while McKinney picked up the pace, throwing 90 mph into the bottom of the seventh inning.
In the second inning, Bill Geeslin led off the bottom of the second with a single. Adam Rammel then produced a perfect hit on the hit-and-run to put two runners on for Tony Harlamert, who singled to right to drive home the first two runs of the game. After a ground out, Alex Geier, batting over .600 in the postseason, singled up the middle to score Harlamert to make it 3-0.
"I think they were a little surprised we hit (McKinney) early," said Coldwater coach Brian Harlamert. "Our guys can play, too. We battled."
But that would be all McKinney would give the Cavaliers. After allowing six hits in the first two innings, McKinney walked two and allowed two hits over the final five innings. The defense backed up their pitcher as catcher Tony Cassano threw out both Cory Klenke and Keith Wenning trying to steal second in the third inning while shortstop Jake Wurzelbacher started two double plays in the game.
"Everything was outside. We were trying to break the ball away and they were just slapping everything," said McKinney. "Once we kind of figured out what happened and after Tony threw out those two runners, it kind of took them out of their game."
"He's a battler," said Harlamert of McKinney. "He's a great pitcher for their team."
Klenke, heading to Miami University this fall, started out strong, striking out four batters over the first two innings and nearing 90 mph on the radar gun.
In the third, though, Klenke's velocity dropped off. Coach Harlamert revealed after the game that Klenke pulled a muscle in his throwing shoulder and was starting to feel pain.
That allowed the Rams to take advantage, getting three hits and a walk off Klenke in the third to bring in two runs before coach Harlamert made the change and brought in Keith Wenning, who got a pop fly out of Cassano to end the threat.
"Cory didn't have it. ... He just lost velocity," said Harlamert. "He's throwing 88 and drops down to 83. We can't live with that. We had to go with our next best guy (Wenning).
"We were hoping to get four or five (out of Klenke), but he couldn't quite get it. ... On a healthy day (it might have been) a different story."
"We knew they had (Wenning and Geeslin) who were pretty good. Obviously, Klenke is very good," said McKinney. "Once we saw him go out, we knew it wasn't going to be easier, but we had their stud out and we're going after number two."
After striking out the side in the fourth with a trio of strikeouts, Wenning got in trouble in the fourth. Following the first out, Scott Staarman walked and stole second, one of five steals off Cav catcher Adam Rammel on the day. Corey VanNatta looked as if he was going to pop out in foul territory to first, but Aaron Rammel could not handle the fly. VanNatta took advantage and singled to put runners on the corner for Zach Toerner, who flied deep enough to Tony Harlamert in right to score Staarman tying the game.
Wenning got things started off well in the sixth, getting Cassano to ground out, but Purcell doubled to the fence in right-center, bringing up Wurzelbacher, who hit a weak grounder that stayed just fair down the first-base line. Wenning and Adam Rammel followed the ball before Rammel threw to brother Aaron at first for the out.
Purcell, at that point, was nearing third and saw that no one was covering home so he continued running and beat a diving Wenning at the plate to give the Rams the lead.
"I didn't see it, and he did," said Badin coach Rick Kunkel of Purcell's dash home. "That was just a heads-up play. We always tell kids if they're on second and there's a play to first, be heads up and keep going. If they don't see you, you might sneak a run in. That's what he did. It's a mistake on their part, but that's what happens and you have to take advantage of the other team's mistakes. That's what we did.
"When I looked at home (after Purcell dash), I just said "Beat them to it (the plate). They were a long way away."
"Obviously, very aggressive on their part," said coach Harlamert. "It was a tough play for Adam to come out and get the out (at first). Just a matter of Keith not realizing that the guy might come home."
The Cavaliers got out of further trouble as Klenke threw home on a double-steal attempt by Badin to get VanNatta to end the inning.
In the seventh, after the Cavaliers went down 1-2-3 in the sixth, Wenning put two runners on and was pulled for Geeslin, who promptly walked the bases loaded before getting a strikeout and a flyout to send the game to the bottom of the seventh.
McKinney continued bringing heat in the seventh, striking out Adam Rammel and enticing Tony Harlamert to groundout to short. Aaron Rammel beat out an infield single to bring up Geier, who was 2-for-2, but Geier grounded to Wurzelbacher, who touched second for the force to end the game.
"He gets stronger as he goes," said Kunkel of his ace. "He's always been like that. He's always gotten stronger the farther he goes in the game. We're blessed to have a kid like him."
"The little things actually cost us today," said coach Harlamert. "Got the lead and couldn't tack anymore on, and McKinney got stronger. That's going to happen sometimes.
"Hats' off to our coaching staff, our seniors, our parents, our program. It's hard to get to Columbus and hard to win it. We'll work to get back and win it, but this year, we fell a little bit short," added Harlamert.