Monday, June 8th, 2009
Breland, Wermert finish the season in sixth place
By Bruce Monnin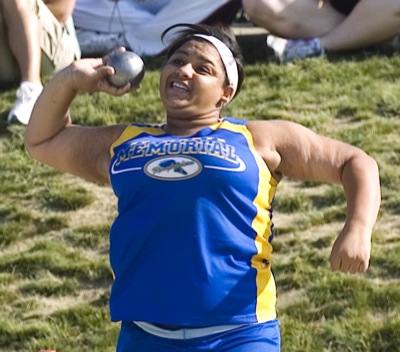 COLUMBUS - While most of the area participants in the state track were from Division III schools, a number of athletes from Celina, St. Marys and Coldwater competed in the Divisions I and II track meets.
The St. Marys girls finished 51st in the Division II team standings, while the Coldwater girls were a point behind in 58th place.
However, team results were not on the minds of these athletes as they competed. Their events were more about individual accomplishments.
Celina
Ten was the magic number for the Celina Bulldogs. They had three athletes competing Saturday, and each of them finished their events in 10th place.
Senior Todd Hertel was the first Bulldog in action early Saturday afternoon. Todd was able to clear 13-6, but failed in his three attempts to keep the bar from falling at 14-0. This earned the senior a 10th-place finish in the event. There was a large difference in the quality of the top-nine vaulters and the rest of the field, as even if Todd would have matched his own record height of 14-3 he still would not have cracked the podium. In order to have finished in the top eight he would have needed to go six inches higher than his previous best and clear 14-9.
Late in the afternoon, junior Andrew Goodwin took part in the 1600-meter run, with a small fan club wearing green "Good Luck Andrew" shirts at the top of the stadium. He finished the first lap in last place of the 16-man field, but still part of the lead pack. Goodwin moved up into 14th place after the second lap and 11th place after the third lap. When a lead group of eight started to pull away early in the last lap, Goodwin tried to follow and moved up into ninth place with 300 meters to go, but couldn't reach the leaders.
"That was my goal," confirmed Goodwin of his attempt to reach the leading eight runners. "I just didn't have enough in the tank, I guess."
The day ended for the Bulldogs with freshman Hannah Fleck in the 800-meter run. Fleck was in the middle of the pack of 16 runners at the halfway point, and had fallen back to 12th with 200 meters to go. With a push that appeared to take everything out of her, Hannah was able to move back into 10th place at the finish.
St. Marys
The Roughriders' lone representative on Saturday was sophomore Makayla Breland in the shot put. Though her top throw of 39-8 was almost a foot shorter than her personal record, it was enough to earn her sixth place.
"I think it's cool, just being here," said Breland. "I was fifth at regionals last year, so just coming here is mind boggling."
Makayla was in danger of not getting out of the preliminary throws as the best of her first two throws was only 35-61/2, but Makayla calmly made an adjustment.
"I scooted up toward the center of the ring." She then uncorked her top throw on the day on her third and last throw of the preliminary round.
Coldwater
The Cavaliers also had just one competitor, Maria Wermert in the pole vault. Maria had previously been at the state meet in 2007 when she cleared 9-0 in the Division III pole vault, and came into this year's event with a career best vault of 10-0. She tied her personal record of 10-0 on her first try, then set a new personal best when she cleared 10-6 on her second try.
Maria wasn't done yet, as she proceeded to go nine inches beyond her personal record by clearing 10-9 on her second attempt, finished tied for sixth place.
When asked what she had done different to achieve such improved results, Maria said she had not changed anything.
"I've just been practicing hard with my coach," claimed Wermert.
As a senior, this is not only the end of Maria's high school track career, but her high school experience in general.
"I feel done and over with," said Wermert. "It is a relief, but it feels good."