Thursday, June 11th, 2009
Coldwater explodes for seven runs in the first
By Gary R. Rasberry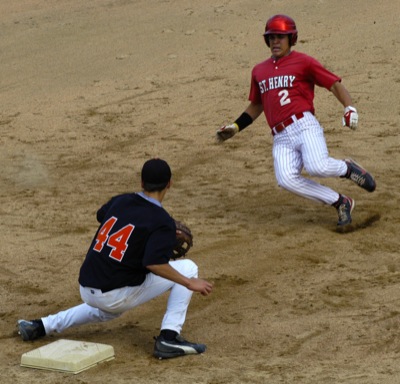 ST. HENRY - Coldwater, finally getting the ACME season underway after the spring team's run to the state semifinals, scored seven times in the top of the first inning and got stellar pitching to beat St. Henry 13-0 in five innings at the Wally Post Athletic Complex on Wednesday.
The win is the first of the season for the Cavaliers after losing a doubleheader to Vandalia-Butler on Tuesday. The Redskins fall to 5-2 with the loss.
"Good effort after two losses to a good Vandalia-Butler team last night," said Cavalier coach Mike Moorman. "We came in and told the guys to relax, get used to us and gel as a team. It took a bit to get going, but they seem to do all right."
The Cavaliers got things rolling right away against Redskins starter Tyler Bruns, putting eight batters on base before the Redskins could get an out. St. Henry did not help matters with three errors in the inning. By the time the dust settled, Coldwater sent 10 batters to the plate with the first seven batters of the game coming around to score to make it 7-0 before the Redskins could come up to bat.
Keith Wenning gave up three straight singles to start the bottom of the first as Jason Westgerdes, Brad Kremer and Neil Schwieterman each reached base, but no runners got past third as Westgerdes was thrown out trying to get to third and Wenning closed things down to end the only real scoring threat for St. Henry.
The Cavaliers added three runs each in the third and fourth innings. St. Henry committed seven errors total in the game, making seven of the 13 Cavalier runs unearned.
"They (Coldwater) came to play ball and we didn't," said St. Henry coach Todd Franck. "Pretty hard to defend seven errors. They came to play ball from the first pitch and we weren't ready. The score shows it. Not much more I can say."
Wenning went the first three innings to get the win, striking out three and didn't walk a batter. Nick Schramm threw two perfect innings to close things out for the Coldwater win.
"Keith's Keith. He gets stronger as he goes," said Moorman. "He just got back from Northwestern's football camp and probably threw a lot of footballs. He gets stronger every inning.
"Nick Schramm, very happy with him. He came in and threw strikes. Very live arm."
Reese Klenke went 2-for-2 and drove in a run for Coldwater while Jordan Woeste belted a pair of doubles.
Jason Westgerdes continued his hot hitting, going 2-for-2 with a double.
Coldwater heads to Rockford tonight for a 5:30 p.m. doubleheader with Parkway in county circuit play. St. Henry heads west to face Fort Recovery this evening.