Tuesday, June 23rd, 2009
Crowd objects to proposed ordinance requiring permits for public assembly
By William Kincaid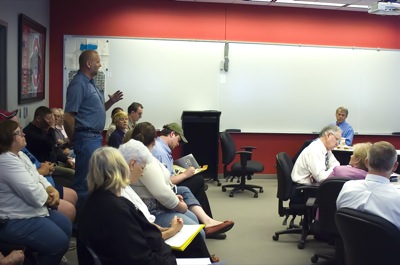 A large crowd of citizens, including some from out of the area, packed the Celina City Council meeting on Monday night. Most objected to a proposed ordinance that would require permits for public assemblies on city grounds.
At the beginning of the meeting, Councilman Bill Sell said the ordinance was pulled from the agenda because its language needed tweaked.
Sell, a long-time government teacher, told the crowd he is a strong believer in the First Amendment. He said council's community betterment committee, which proposed the ordinance, was simply concerned about two community groups assembling on the same property at the same time.
"And that truly was the discussion," he said.
Sixteen people spoke during the meeting, including Kenneth Chappel, a self-proclaimed preacher from Eaton who was one of the individuals arrested last year during a religious-based protest at Freedom Days. He later was found not guilty of disorderly conduct.
Council has said the ordinance was prompted by a few incidents that occurred during festivals last year. According to a city official, one case was thrown out by a judge because the city had no related policy.
Chappel said the idea of permits is clearly a violation of constitutional rights, such as the freedom to exercise his religious beliefs and his understanding of the King James Bible.
"I'm telling you that if you pass this ordinance, you're asking for trouble," Chappel said.
Chappel said if his constitutional rights are violated again in Celina, there will be actions of litigation filed against the officers in question and the city.
Virginia Wood of Celina said it is not a good idea to make laws for something that may happen.
"Celina is a peaceful community. It is a city of churches," she said.
Attorney Jim Tesno of Celina was concerned about a small group of people having the power to grant permits. The proposed ordinance had said Celina Police Chief Dave Slusser would grant the permits.
Tesno asked what about people who stand up for unpopular causes.
"The popular causes are easy," he said. "It's got to be open (to everyone and every issue)."
The least government is the best government, Celina resident Tim Townsend said, adding that there already are related laws on the books.
Kumar Sivagnanam of St. Marys also was concerned about the city having the power to either grant or deny a permit.
"That is a very disturbing concept," Sivagnanam said.
Asked why a permit would be denied, Chief Slusser said for reasons of logistics, manpower and other reasons.
Slusser said he thinks many read the proposed ordinance out of context, blowing it out of proportion.
If a family spends six weeks planning a wedding they shouldn't have to worry about a nearby poker run, he said. The intent is to prevent a direct confrontation from two groups of people, whoever they may be, he said.
"They should be able to hold the event without someone coming into the middle and disrupting it," he said.
Jason Now, Coldwater, engaged in a brief verbal confrontation with Slusser about how far away public assemblers would be allowed to stand near events with permits.
Slusser said he would like to see them stand away from such events, whether 100 feet or 100 yards.
Near the end of the audience communication section, Tesno asked council not to rush the ordinance through or pass it as an emergency measure.
Sell insured the crowd that if the ordinance comes back to council members, there will be three readings held.
No action was taken.

Council was waiting on case outcomes:
The city of Celina waited almost a year to try to enact a permit process for public assemblies because it was waiting on the outcome of two disorderly conduct cases, according to city officials.
Celina Mayor Sharon LaRue was asked the question during the audience communication portion of the city council meeting Monday night.
"It did take this long to get something together," she said.
The proposed legislation was prompted by incidents that occurred during festivals last year, where a few arrests were made for disorderly contact after public assemblies got out of hand.
The city's community betterment committee first proposed the ordinance in June, suggesting it be on the books before Freedom Days in early July. On Monday night, council pulled the ordinance from the agenda.
City Law Director Kevin Mc-Kirnan said the city law department - which sought to find a better way for the city to regulate public assemblies - waited until the appeals process was over for the two cases to create the legislation.
"This was new to us. We're a small town," LaRue said.
The proposed ordinance in question was taken from another city, where it was tested and found appropriate at an appellate level, McKirnan said.
The proposed ordinance had said, "any meeting, demonstration, picket line, rally or gathering of more than one person for a common purpose as a result of prior planning that interferes with the normal flow or regulation of pedestrian or vehicular traffic or occupies any public area in a place open to the general public" would require a permit.
"It really does not regulate free speech," McKirnan said, pointing out the ordinance would have created a procedure for the city to have adequate police protection for protesters and to insure the flow of traffic would be unimpeded.
- William Kincaid