Friday, June 26th, 2009
Volunteering themselves
Celina football coach starts community service program that puts players to work
By William Kincaid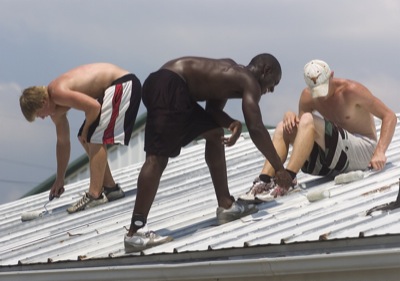 In the scorching heat on Wednesday, a group of Celina football players took to the top of the utility garage at the Mercer County Fairgrounds to repaint the roof.
The work was part of a community service program started by Celina head football coach Jared Rolfes.
"I think this is a good way for them to give back to the people that support them," Rolfes said.
The program began with 10 football players selected as captains. Each captain then picked others to form volunteer groups.
With the approval of the coach, the groups can choose any community project, whether painting a roof, helping a coach with a remodeling project or mulching their grandparents' yards.
Rolfes implemented a point system to motivate the players to pursue as many projects as possible before the grind of football camp and two-a-day practices begin at the end of July.
"I really like it ... it gives them some opportunities to do some things and compete against each other," Rolfes said.
Some of the prizes for most points include a Nike windsuit and a steak dinner.
"We think it's great," said football player Ryan Paulus, who will be a junior next school year. "The community supports us on Friday evening."
According to Paulus, some players intend to do three to four projects each week, depending on their work and other sports' schedules.
Some of the players also will work the food stand at Freedom Days in Celina next weekend and move furniture for the auction at the I.C. Picnic, said Caleb Fickert, who will be a senior this football season.
"I think people are starting to catch on that we're doing this," Rolfes said.
The players on Wednesday said they are looking for projects, encouraging residents with suggestions to contact them or Rolfes.
"I think it's fantastic," said Celina resident Wayne Doner, who was supervising the players, which included his grandson, Curtis Doner, on the roof Wednesday.