Tuesday, June 9th, 2009
Marion Local off to 4-1 start this summer
By Gary R. Rasberry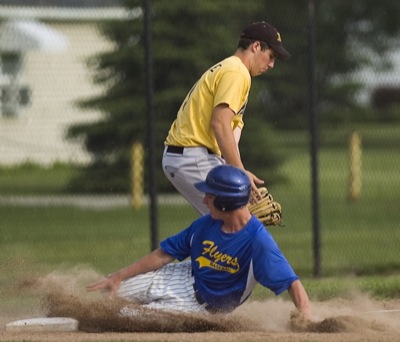 ROCKFORD - Marion Local took advantage of four Parkway errors and Jarren Griesdorn threw a three-hitter leading the Flyers to a 5-1 win over the Panthers in Mercer County ACME baseball action at Don Black Field in Rockford.
"We left too many runners out there tonight," said Flyers coach Kevin Knapke, referring to the 13 runners left on base, including bases loaded in three innings. "We're lucky to come out of here with the win. Parkway is a great program over here. Tough place to play."
The Flyers, now 4-1 this summer, tallied nine hits in the game and got baserunners in six of the seven innings. The sixth inning was the lone frame where Parkway (0-5) pitcher Chris Brazle kept the basepaths clear.
"Our guys have been hitting the ball well," said Knapke. "We had a nice week this past week. We got three wins. Was a little disappointed when we got beat by Minster (9-6 on Sunday). We scored 18, 12 and 10 last week. Hopefully, we can keep doing that."
Brazle, who struck out six and walked five, was tagged with just three earned runs as errors hampered Parkway early.
"I thought Chris did a good job on the mound," said Parkway coach Ryan Berry. "He threw quite a bit of pitches but was still able to keep us in it."
In the second, A.J. Homan led off by reaching on an error and Josh Berning followed with a single to move Homan to third. Dylan Thobe lofted a fly to left for the first out, with Homan just making it back to third before the throw. Parkway third baseman Jared Bourelle then threw to first to try and double up Berning, but the throw to Ryan Steinbrunner was high, allowing Homan to score the unearned run.
The other unearned run came in the third when Ryan Mescher reached on an error. The Flyers loaded the bases before Brazle walked Thobe to drive in a run.
Parkway got its lone run thanks to an error and smart baserunning. Jake Jackson reached on an error in the fourth, stole second and went to third on a passed ball. Evan Cheek then walked and got hung up in a rundown long enough for Jackson to score to cut the Flyers' lead to 2-1.
The Flyers put the game away in the fifth with three runs. Griesdorn helped his own cause with an RBI single to score Thobe, then Travis Winner cleared the bases with a two-run double to round out the scoring.
Griesdorn cruised from there, striking out seven and walking three in the three-hitter.
"He threw about 90 pitches," said Knapke. "We preach to him (about) getting that first pitch strike (Griesdorn had nine against Parkway) so he doesn't get into trouble. That's all we ask of them, to stay out of trouble like that. Get ahead of the count, you stay out of trouble."
"Couldn't come up with the timely hit," said Berry. "(We had) some baserunning mistakes. We're still a young team. We have seven seniors, but not a lot of experience."
Tucker Smith led the Flyers with a 3-for-4 game and had a double while Griesdorn went 2-for-5 with a double.
Bates was 2-for-2 for Parkway, with Steinbrunner collecting the other hit for the Panthers.
Parkway stays home tonight to host Fort Recovery at 6:30 p.m. while Marion's next game will be Wednesday when Parkway makes the trek to Maria Stein.