Thursday, July 2nd, 2009
Celina, Marion Local win elimination contests
By Gary R. Rasberry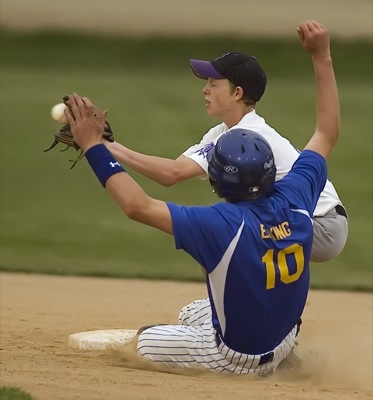 COLDWATER - Celina rebounded from a slow offensive night on Tuesday to stay alive in the Mercer County ACME sectional with an 11-1 win in five innings over Parkway in an elimination game at Veterans Field in Coldwater on Wednesday.
The Bulldogs (18-13) will look to stay alive in the tournament in facing Marion Local on Friday at approximately 8 p.m. in Coldwater. The Flyers (11-9) beat an undermanned Fort Recovery squad 18-3 in six innings in the first game on Wednesday.

Celina 11, Parkway 1 (5 innings)
After collecting six hits in Tuesday's 2-0 loss to St. Henry, Celina got things going quickly, plating six runs in the top of the second inning while batting 10 men in the inning. Josh Leonard paced the attack with a two-run single while Mike Siefker and Austin Bell added RBI singles.
"We came ready to play. No question about it," said Celina coach Rob Howell. "We were tight last night and our hitting performance tonight was due totally to coach Gass (Celina assistant coach Shane Gass). He took the kids out of the park today, relaxed them and got their swings back."
Meanwhile, Siefker had Parkway struggling at the plate, throwing 32/3 innings of no-hit baseball before Jake Jackson laced a triple to right, scoring Jared Bourelle, who reached on an error. Siefker recovered and only allowed a Grant Ripley single in the bottom of the fifth to finish with the two-hitter, striking out five and walking just one.
"Mike was in the zone tonight," said Howell. "When he is on, he's on. He battled tough. He came to the ballpark wanting the ball. We played great defense behind him."
Leonard finished the game going 3-for-4 with two RBI. Hayden Heiby, Darin Waterman and Siefker each added two hits, with all nine Celina batters scoring at least one run.
Marion Local 18, Fort Recovery 3 (6 innings)
For the first few innings, the Indians, playing with six incoming freshmen in the lineup and missing several key players, held tough against the Flyers. After Marion scored three times in the top of the first, the Indians were able to get two runs back, one coming on an RBI triple by Brian Keller.
Fort Recovery stayed close through the four innings, trailing only 7-2 before the Flyers finally began to pull away, scoring four times in the fifth and plating seven runs on just three hits in the sixth to trigger the run-rule.
"We pretty much came with a jayvee team," said Fort Recovery coach Chris Galdeen. "Some of these guys played Pony League last summer and it's tough to compete at the varsity level like that."
Tucker Smith picked up the win for the Flyers, scattering three hits and four walks over six innings, striking out five Indians players.
Tyler Mescher led the Flyer hitting attack, going 4-for-4 with three RBI. Lee Pierron, Smith and Jarren Griesdorn added two hits each.