Saturday, July 11th, 2009
Revamped Lake Campus taking shape
$9 million expansion should be completed in time for fall classes
By Shelley Grieshop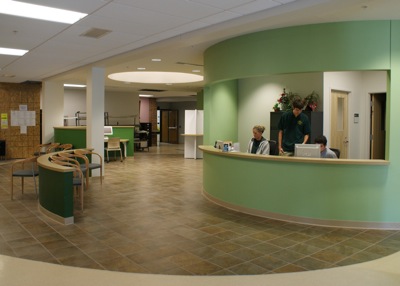 The dust and debris at Wright State University-Lake Campus is expected to disappear in a few months as workers complete a $9 million expansion project.
Work has steadily continued at the campus since the formal groundbreaking ceremony in June 2008. Just about every corner - 75 percent - of the facility is being remodeled in the massive undertaking.
The project is expected to reach completion by September as students arrive for fall classes, Dean James Sayer has said.
Perhaps the most notable improvement is the addition of the new Dicke Center, which showcases an approximately two-story wall of glass windows to the west.
The addition of more natural lighting combined with brightly-painted hallways and classrooms fulfills the goal of officials to brighten up the university.
The former auditorium is gone and has been transformed into a spacious student services area, which includes a registration/administration/bursar area with lobby. Visitors will be welcomed to that department by a covered entranceway from the circle drive.
The main entrance will be on the east side of the building; the furthest south entrance will access the administration wing, the cafeteria, the bookstore and other offices. It also will include a wide hallway into the James F. Dicke Academic Center.
The multi-million dollar project includes many other features such as new laboratories and state-of-the-art equipment, said student Travis Pottkotter, who offered a brief tour of the facility on Friday.
Funding for the ongoing project is from multiple sources. Main contributors include the James Dicke family, which donated $2 million toward construction of the multi-purpose auditorium/center; Celina Aluminum Precision Technology (CAPT), which contributed $250,000; and more than $4 million from local donations.