Tuesday, July 14th, 2009
Slovakia adventure
New Bremen youth will be first to take part in exchange
By Margie Wuebker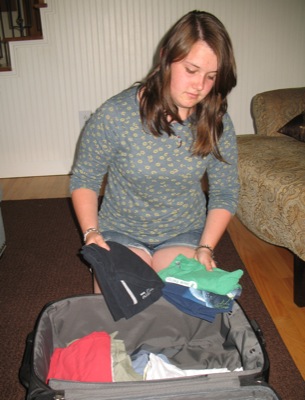 NEW BREMEN - Shelby Frideger sorts through a stack of clothes trying to find the most suitable for her upcoming 10-month visit to Slovakia.
Frideger, the 18-year-old daughter of Todd and Bev Frideger, will become the first teenager from the New Bremen-New Knoxville Rotary Club to participate in the Rotary International Youth Exchange program. She departs in late August and will remain there throughout what would have been her senior year at New Bremen High School.
"Slovakia was not my first choice in terms of destinations," she admits with a smile. "It actually ranked sixth on the list. Although the more I learn about the country and its culture, the more excited I become."
She initially wanted to go to Croatia. However, government officials do not welcome young people 18 and over with open arms. Other possible destinations included the Czech Republic, France, Italy, Spain, England and a host of Latin American countries.
"Slovakia is a small developing country in the heart of central Europe - the equivalent of Europe's Florida," she says. "It is an ex-Communist country that became an independent state during the 1990s."
The landlocked country is bounded by Poland to the north, Hungary to the south, Ukraine to the east and the Czech Republic and Austria to the west. Slovakia is home to the Tatras Mountains, landmark castles dating back to the 1200s and farming regions producing wheat, barley, potatoes, sugar beets, fruit and tobacco.
"I will be staying in Kosice, the second largest city with a population of 250,000 and the art center of the country, for the first three months or so before heading to a rural region that is more like this area," Fridiger says. "There will likely be three host families over the course of 10 months giving me the opportunity to experience what life is truly like over there."
She has been in contact with her first host mother Renata Magicova and knows the single-parent family includes two sons, one enrolled in college and the other bound for the U.S. as an exchange student.
"I'm trying to learn the language online because popular programs like Rosetta Stone do not offer Slovak," she says. "It's like learning my ABCs all over again Slovak style."
Frideger will attend a gymnasium school where English classes are required. She plans to take chemistry, algebra, Slovak literature and writing and two foreign languages - one of which will be English and the other Russian or German.
"Gymnasium schools are strictly academic," she explains. "There are no sports or extracurricular activities like we have here. What activities there are take place after school in the community."
Frideger recently completed a marathon year at New Bremen High School by packing enough credits into her junior year to satisfy graduation requirements. She took chemistry, English 12, Algebra II, Spanish III, honors English 11, Art III and American government. She also took the American College Test required for college admission and maintained her part-time job at New Bremen Coffee Co. & Books.
"I wanted to finish high school before I left and not face the prospect of finishing up later," she says. "My grade point average ended up being 3.47 and I needed a 3.5 for an honors diploma. What a bummer!"
Although Frideger wishes to remain part of the Class of 2010, school officials permitted her to "walk" at this year's commencement exercises. The experience is one she will treasure because her scheduled return comes nearly two months after her class graduates. She will not receive a diploma until she returns.
With Rotarians picking up much of the trip cost and providing a $50 monthly stipend throughout her stay, she looks forward to experiencing the culture of another land. However, she is no stranger to travel with mission trips to Belize and a Navajo reservation under her belt.
Her future plans include pursuing art and/or language studies at Earlham College in Richmond, Ind., or Bowling Green State University upon her return.
"I will miss my family and friends," she admits. "I'll only be gone 10 months and that's not so long in the whole scheme of things. Sure I could have picked a shorter stay, but I wanted to really experience the culture. Heading off to college will be a cinch after this."