Thursday, July 16th, 2009
Murder victim is identified
By Shelley Grieshop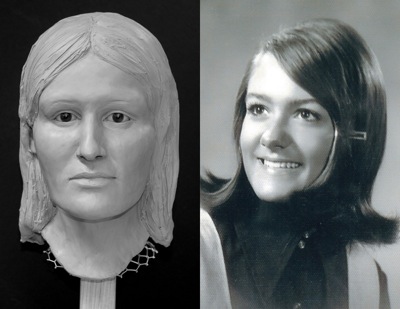 Darke County officials have positively identified an 18-year-old woman who was murdered and dumped in a cornfield near Arcanum nearly 39 years ago.
A "cold case" team received the news from DNA experts late last week confirming the nude and decomposed remains found Oct. 11, 1970, as Jeanne Marie Melville of Green Bay, Wis. The young lady reportedly was traveling by bus from her home to Darke County in the summer of 1970 when she disappeared.
"When I got the call, well, it's difficult to put into words, I got goosebumps," Chief Deputy Mark Whittaker told The Daily Standard this morning. "I was extremely surprised. I was also sad for her family but glad she is finally reunited with them and they have some answers to their questions."
Whittaker said Melville's closest relative, younger sister Nancy Malcore, survives in Green Bay. Her father died prior to her disappearance, and her mother and brother passed away sometime after the murder occurred.
"Unfortunately, they died without ever knowing what happened to her," he said.
Authorities say they are confident the recent identification will help them solve the nearly 40-year-old murder.
"Before we got the call, we were missing a big piece of the puzzle. We couldn't trace her last steps," Whittaker said. "This has created leads we didn't have before, her last year, last hours."
Authorities made headway in the case last fall after forensic technology helped them construct a face for their victim by using a clay mold. They distributed the image to the media in October 2008.
Melville's aunt, Phyllis Nichols of Wayne Lakes in Darke County, who was to pick up her niece that summer at a Greyhound Bus station in Richmond, Ind., saw the image and a story in her local newspaper and contacted the sheriff's office.
"She believed that the forensic artists depiction in the newspaper resembled her 18-year-old niece, Jeanne Marie Melville," Whittaker said.
The Darke County Sheriff's Office and the Green Bay Police Department - who had closed the missing person's case on Melville years ago - took DNA samples from Nichols and other surviving relatives and sent them to the University of North Texas Center for Human Identification. The samples proved conclusively that Melville was the formerly unidentified "Jane Doe."
The case of the unidentified woman began Oct. 11, 1970, when Melville's body was found in the 1200 block of Frazers Road by two teenagers. The body was in an extreme advanced state of decomposition, making visual identification impossible. At that time, the exact cause of death was suspected to be strangulation, asphyxiation or drowning.
Authorities followed up on missing persons reports, but without significant leads the remains were buried as a Jane Doe on Oct. 29, 1970. For 36 years, the body remained in an unmarked vault in the county cemetery at the intersection of U.S. 127 and state Route 49.
In 2006, the sheriff's office teamed up with the coroner's and prosecutor's office to form the Darke County Cold Case Task Force. Two months later, the group was awarded a $10,000 grant by the Ohio Attorney General's Office to help solve the homicide of Jane Doe.
In October 2006, the body was exhumed and forensic experts began the work that led to the identification.
The body was reinterred in the county cemetery last fall with a special service held by officials. Whittaker said it's now up to family members to give Melville an official grave stone with proper identification.