Saturday, July 18th, 2009
Expert: It's been in Grand Lake for years
Algae toxin dilemma
By Nancy Allen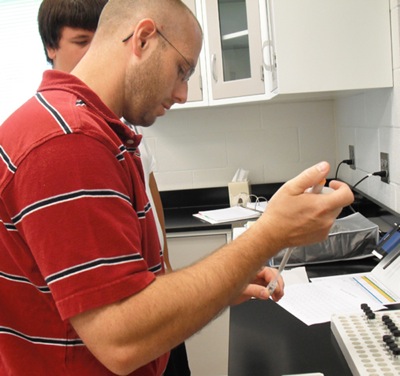 The algae toxin in Grand Lake was present more than 30 years ago and could have been there since it was built on impounded swampland and prairie 164 years ago.
But that doesn't make its presence any less of a concern, especially considering the high toxin levels that have been found in the lake, an expert on the topic says.
Scientist Wayne Carmichael was the first person to discover the toxin produced by blue-green algae in natural lakes in Canada in 1972. He gave the toxic byproduct its name, microcystin. When he moved to Ohio in 1977 to work at Wright State University in Dayton, the first lake he studied was Grand Lake. Recently retired from the university, he serves on a national committee and consults and advises on the topic from his Oregon home.
"I looked at Grand Lake 32 years ago when I first came to Ohio and found it," Carmichael said in a recent interview. "We knew it was there, but at that time we had no way to measure the (toxin) levels."
Carmichael said during his studies in Canada, he and colleagues fed the algae to mice to test the toxicity of the blue-green algae waterblooms. The mice died.
He also was part of a study group in China, which showed that drinking water containing microcystin ingested for long periods of time could lead to liver tumors in humans.
No such lethal threat to humans exists with exposure to Grand Lake's water unless you ingested an unrealistically high amount of water or algae, Carmichael said, but it could make a person sick if accidentally swallowed while swimming and can kill animals that drink it.
Celina's treated drinking water continues to test negative for the toxin, data shows. Grand Lake is Celina's sole source of drinking water.
"Oral ingestion is not a high risk (at Grand Lake)," he said. "It's not that you are going to die. Here the threat is more gastrointestinal issues in humans or animals drinking the water like livestock and dogs."
Carmichael said Grand Lake has been nutrient rich for some time. It's not a natural lake, but really a low spot that was dammed up and now captures large amounts of runoff from mostly agriculture land.
Scientists know what conditions need to be present for blue-green algae to grow in large numbers like it does in Grand Lake - nitrogen and particularly phosphorous mixed with warm, still water. Summer is the time when blue-green algae blooms are the largest.
Grand Lake continually experiences large algae blooms that have turned the water a dense, cloudy green color and causes fish kills. The most recent fill kill occurred during a hot stretch of weather late last month that killed about 600 fish in mostly channels and some in the main body of the lake. Plummeting oxygen levels caused by blue-green algae using up oxygen caused the fish kills, an Ohio Division of Wildlife official said.
The larger the amount of blue-green algae in any body of water increases the chance the water also contains the toxin, Carmichael said. But what actually causes the algae to release the toxin at certain times and not others remains a mystery to scientists.
"It (toxin) can be produced at any time the (blue-green algae) is there, not under any particular circumstance," Carmichael said. "We cannot say that warmer weather or more nutrients produce more toxin. It is not clear what conditions need to be present to turn toxin production on ... we just don't know what regulates it."
That is why, Carmichael said, it is important to keep monitoring the lake's water.
Other communities in the U.S. also have dealt with elevated microcystin toxin levels, but how each of them does so differs, he said.
While Ohio overall has not had many instances of high algae toxin levels, Lake Erie has had a few, but only in late summer months and into September, Carmichael said. High microcystin levels are more of an issue in Illinois, Iowa, Michigan and Indiana, most of which have agriculture intensive watersheds, he said. There also are some reservoirs in Oregon and elsewhere that have readings of 100 parts per billion or more.
"One reason you don't hear more about it is they know better how to respond, explain it to the public and deal with it and it's not as much of a concern," he said. "They have monitoring programs and know how to deliver information ... most states that have it just live with it."
Carmichael said even if microcystin was present in Grand Lake since its construction, the levels likely have gone up in conjunction with the increasing amount of nutrients flowing into the lake.
"When the lake was first developed it was probably fairly clean," he said. "It's hard to predict when blue-green algae became an issue, but as nutrient enrichment becomes more severe, the blue-green algae becomes more dominant."
Studies done by biology professor Robert Hiskey at Wright State University-Lake Campus show that blue-green algae has become the dominant type of algae in the lake, pushing other types out that do not produce microcystin. Blue-green algae is the only type of algae that produces microcystin.
The biggest questions on many local officials' minds is how to get rid of the microcystin in the lake.
Carmichael said that depends on how much money people want to spend, noting there is technology to "take care of most anything." However, the ultimate answer is reducing the amount of nutrients that flows into the lake.
"But I think you are beyond that now," he said. "To do that you would have to remove a lot of sediment from the lake."
Other options include harvesting the algae using expensive equipment that skims it from the lake's surface and dumping it in a landfill or using chemicals to kill it, both of which also cost lots of money.

For more info:
Grand Lake algae toxin levels: The most recent water samples taken from Grand Lake on Monday produced readings ranging from 26.1 to 53.7 parts per billion. The World Health Organization sets the recreational water exposure limit at 20 parts per billion.
To receive the most current toxin levels for Grand Lake go to www.epa.state.oh.us/pic/glsm_algae.html and click on the bulleted item called Grand Lake St. Marys sampling data.
World Health Organization info: To access the World Health Organization's book "Toxic Cyanobacteria in Water: A Guide to Their Public Health Consequences, Monitoring and Management," go to www.who.int/water_sanitation_health/resourcesquality/toxicyanbact/en.