Tuesday, July 21st, 2009
Longtime carriers to make last delivery
Beyke family of St. Henry will retire from their Daily Standard route this week
By Shelley Grieshop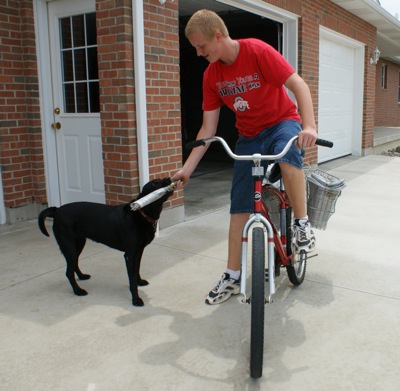 ST. HENRY - After 21 years of ink-stained hands, growling dogs and "some of the sweetest customers in the world," the Beyke family is hanging up their Daily Standard newspaper bag forever.
Tom and Esther Beyke's 12 children and three of their grandchildren have delivered the Celina-based paper longer than any other Grand Lake-area family. Their stories are many and so are the lessons in life they gathered along the way, Esther says.
"The paper route was a blessing for our family," she says. "Frankly, we've just run out of kids and it's been difficult to find substitutes."
Their youngest child, 13-year-old Aaron, has become more involved in sports, she explains.
"We can't provide the service we once did, so it's time to pass it on to someone else," Esther says, adding Saturday is his last day on the job.
When the Beykes began the route in 1988, they had just brought their 10th child into the world. Money was tight. They wanted to teach their youngsters to be financially responsible so they eagerly accepted the opportunity to hand-deliver the paper in the southeastern section of the village.
A fiscal rule was established from the get-go: each child would put half their paper route earnings into a savings account and were permitted to spend the rest. The new "Beyke law" soon became a windfall for the local pharmacy, which was the halfway point on the route and a regular stop-off for pop and candy.
Esther says the children also used their profits to pay half the cost of their eighth-grade trip to Washington, D.C., and tapped their own coffers for shopping trips and weekend outings with friends.
"When the older siblings were strapped for money in college, they borrowed from the younger ones' savings accounts. It was always paid back," she says.
The kids credit their financial adviser - Mom - with organizing the mini-business.
"She was the liaison between us and The Standard," 18-year-old Bridget says. "She knew all the routes and if we needed someone to deliver at the last minute, she could do it."
The job was a learning experience for Mom, too. On one particular night, after returning from a state tournament game, Esther and her son, Dave, now 29, performed a late night delivery in the dark.
"Mom was so impressed by the customers who turned the porch lights on for her as she approached," Dave says. "She even started saying 'thank-you' as she left."
Later she asked her son if customers had left lights on for him, too.
"It was a big laugh. That was the night Mom learned about sensor lights," Dave says.
For all the frozen fingers and toes and the missed after-school parties, there were oodles of funny adventures, they say. Many involved canines.
"Boomer was a dog on our route that was disciplined by his owner with a newspaper. Every time we rode up to deliver the paper, he barked and yipped," says 36-year-old Rob, the oldest of the Beyke dozen.
One day, Rob threw the paper in the front door and defiantly stuck out his tongue at the howling pooch at the window. Little did he know the dog's owner witnessed the event and later gave a hysterical play-by-play account to the rest of the family.
Other obstacles included thick newspapers with bulky inserts that put muscles and the family's fleet of two-wheelers to the test. Thank goodness for Dad, good 'ole Mr. Fix-it, who kept plenty busy repairing broken bicycle chains, bent tire spokes and cracked baskets, the kids say.
The Beyke's 100-plus customers often rescued them with ice water on hot days and hot cocoa on cold days, they say. Hi-C boxes were a frequent gift at one home and a can of pop greeted them each Saturday at another.
"Our customers were very generous with Christmas tips, gifts and food," Esther adds.
But there also were demands. Some wanted their papers left in odd, out-of-the-way locations such as the seat of a riding lawnmower, inside a Tupperware bowl or under a brick. The children obliged.
Their paper route memories would not be complete without the mention of newspaper ink, which somehow smeared itself across their faces and shirt sleeves and ruined many a good bath towel, Esther says. Coal-black fingerprints often were delivered with the daily news.
"One customer changed their beige garage door to a dark brown so they couldn't see the ink marks left on their door," 26-year-old Jan says.
As their last day of delivering draws near, the family says they have no regrets.
"There were days when (the kids) argued and cried because they didn't want to go out, but in the end they always went. They developed a good work ethic," Esther says. "The experience has been a good one."
Would they do it again? In a heartbeat, they say, but maybe with a few less snowstorms, heat waves and big dogs.

The Beykes:
The Tom and Esther Beyke family of St. Henry will bring a 21-year era of delivering newspapers to a close on Saturday.
Through the years, their Daily Standard paper route was passed down to each of the couple's 12 children. They are: Rob, now 36; Brad, 35; Brenda, 32; Karen, 31; Dave, 29; Jan, 26; Stephanie, 24; Ken and Keith, both 23; Sandy, 21; Bridget, 18; and Aaron, 13.
Also helping out were grandchildren Corey, a high school sophomore; Kial, a high school junior; and Krista, a third-grader.
Six of the Beyke children are now college graduates, one is a factory worker, two drive milk trucks, two attend college, and the youngest, Aaron, is in the eighth grade.
The Daily Standard staff would like to thank the Beykes for their longtime devotion and service.
- Shelley Grieshop