Wednesday, July 22nd, 2009
Bass float gets remake for Lake Festival
By Betty Lawrence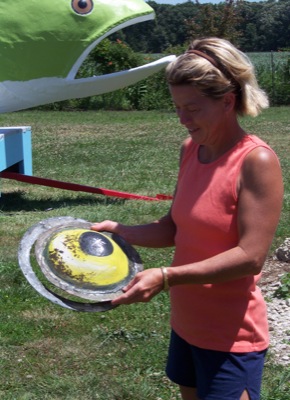 A new "Big Bob," the world's largest handmade bass, will be unveiled Saturday at the Celina Lake Festival parade.
The bass has been a popular mainstay in the festival's parade since 1965, when the fish float was constructed by the late Robert "Red" Adams. The whopper is 31 feet long, 14 feet high (to dorsel fin) and 4 feet wide - making it the largest by 1 foot based on Web research by Brenda Robinson, whose family undertook restoration of the fish earlier this year.
"It used to be that no one really knew what kind of a fish it was. Some called it a crappie, some said it was a carp, but it's definitely a bass," said Robinson of rural Celina. "(Marilyn Belcher) told me the paint was peeling and that it really looked bad, so I looked into it and brought it home."
Robinson soon learned the past 44 years had been hard on the old fish and its support system (wagon).
"I thought we could just pressure wash it at first, but it was worst than we thought," she said.
The fiberglass fish was covered with pin holes that needed patched. Robinson's husband Mike reshaped the fish's dorsal fin for accuracy, constructed four new front fins that were missing entirely and even relocated the eyes to proper proportion.
The old wooden wagon that the fish sat on suffered from dry rot and was in such a bad state of repair that it was completely replaced for safety's sake. The wagon's wheels also needed to be replaced with Louis Huelsman stepping forward to provide a new set of wheels and Art's Muffler & Tire in Celina assisting.
Parade watchers should get a kick out of seeing Big Bob's eyes light up as he swims down Celina's streets.
"Apparently they used to light up years ago because there was an old battery stored inside the wagon," Robinson said.
The innovative family used bowling balls to help form the new plastic eyes.
"My whole family has helped work on the fish," she said. "But it was in our backyard since May and it was time for it to go back home. We just wanted to bring the fish back to the way it was."
After extensive work on the wagon and the fish and several layers of white and olive garden green latex paint, Big Bob swam his way to JD Construction in Celina. Once there, artist Jack Griswold and his son, Jeff, and grandson, Jared, put the detailed, finishing touches on the bass, along with new lettering on the wagon to advertise Celina and Grand Lake.
Coincidentally, Griswold, now 77, painted the fish when it was first constructed in 1965 and touched it up a bit in the 1970s.
"When they asked me to paint it again, I thought, why not. It's a piece of the town's heritage," Griswold said. "But this time, I just worked on the bottom part because I have trouble getting up on a ladder and Jeff and Jared did the top part."
He remembers when "Red" Adams built the fish, using a stuffed bass on the wall in the former Celina Coffee Shop as a guide.
When the Griswolds were done painting, Robinson applied a final clear coat to protect Big Bob from the elements.
"I bet he's good for another 50 years," Griswold said.
The fish was built to advertise Celina and Grand Lake, with many Lake Festival queens riding on the float in the past. More recently members of the Celina Dolphin swim team have enjoyed a ride on the float during the Lake Festival parade.
The swim team members riding the float this year will be wearing special T-shirts adorned with a picture of Big Bob, also drawn by Griswold, in celebration of Big Bob's restoration.
"It was a lot of work, but if I had to do it all over again, I would, for the kids," Robinson said.
The Lake Festival parade begins at 6:30 p.m. Saturday. Parade-goers are reminded the parade route has been changed due to street renovations. The parade will not travel down Johnson Avenue. Instead, it stays on Main Street ending at Forest Street beside the Main Street Plaza.

History of Big Bob:
According to a 1976 Celina Lake Festival brochure, the current Big Bob is not Celina's first whopper of a fish float.
Apparently, in the 1930s, a 30-foot-long fish float was built by Celina businessmen to advertise Grand Lake. The float appeared in numerous parades and events throughout Ohio, Indiana and Michigan.
The float was to be a part of the famous Parade of Roses in Pasadena, Calif., but was destroyed when it was loaded for the parade and never reached its destination.
The disheveled fish then was put on a small island in Grand Lake off West Bank Road where it sat for many years as a tourist attraction, the brochure says.
- Betty Lawrence