Thursday, July 23rd, 2009
Celina man sent to prison for murder
Thomas convicted in beating death of his infant stepson
By Margie Wuebker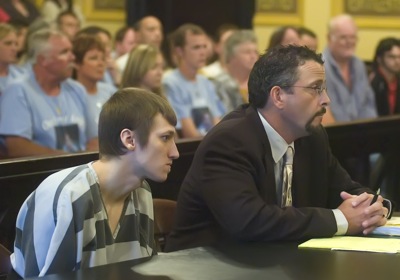 Jason Thomas of Celina showed no emotion Wednesday afternoon as Mercer County Common Pleas Court Judge Jeffrey Ingraham sentenced him to 15 years to life for the murder of his 10-month-old stepson.
The 26-year-old defendant declined the opportunity to address the court. He spent most of the 40-minute proceeding staring straight ahead or looking at the polished surface of the defense table while his wife, Sydney Stienecker, and her family tearfully shared memories of young Kole Mathew Atkins, who died Jan. 16.
The only comment Thomas made during the entire sentencing was profanity at his wife while being led away in handcuffs from the courtroom. Security was clearly evident with metal detection equipment in place and 11 law enforcement officers on hand.
"Kole taught me to love unconditionally," Stienecker said during the proceeding as tears left a trail along her cheeks. "He was always smiling, always happy. He was my world, my light at the end of the tunnel, my sun after a rainy day. My sweet baby boy is now my angel."
Stienecker, who like others in the courtroom wore a pale blue T-shirt bearing his smiling likeness, wondered aloud how anyone could hurt something that was a gift from God.
The grieving mother, the tearful father Matt Atkins and the upset grandmothers Barbara Stienecker and Kelly Reck shared their horrifying memories of the youngster in a hospital bed surrounded by tubes and wires yet clinging to life.
Mercer County Assistant Prosecutor Matt Fox explained Kole was "literally beaten to death." He shared the litany of "horrific trauma" medics and law enforcement officers saw when they responded to 119 Garman Ave. on the evening of Jan. 14 for a non-breather. The injuries included three leg fractures including two spiral ones reportedly caused by twisting, a broken spine and severe bruising of the face, head, arms, torso, legs and back.
Kole died Jan. 16 in his mother's arms after tests indicated no brain activity leading to the disconnection of life support equipment. A subsequent autopsy confirmed massive head injuries due to blunt force trauma.
Thomas, the only adult at the house that night because his wife of one month was working, initially told authorities Kole fell from a crib and landed on steel-toed shoes. He later claimed a dog inflicted the fatal injuries.
Thomas pleaded no contest on June 3 to two charges - murder and felonious assault. He received a concurrent eight-year sentence for the felonious assault charge. In keeping with the negotiated plea agreement, the state dismissed seven lesser felonies including reckless homicide, involuntary manslaughter and endangering children.
Ingraham had no option when it came to imposing a sentence on the murder charge. It carries a mandatory 15 years to life with the Ohio Parole Authority holding a hearing after 15 years to determine whether he is eligible for release. However, the judge imposed the maximum - eight years - on the second-degree felonious assault charge. Running the sentences concurrently was the only request made by defense counsel Matt Gilmore. Thomas received credit for 172 days already served.
"The law leaves little discretion other than to impose man's law appropriately," Fox said. Then in reference to God's law, he added Thomas would be judged in "another place and in another time."
Ingraham directed no comments toward the shackled defendant, but outlined findings from the presentence investigation including a history of criminal conviction and no signs of remorse.
The judge appeared moved by the testimony of Kole's relatives. He looked down momentarily and shook his head slightly as Barbara Stienecker said, "The amount of violence and damage Jason inflicted on Kole was so extensive. It breaks our hearts to know the torture Kole had to endure that dreadful day. Justice will be served in the eyes of the court and one day with God."
Relatives say they must now try to pick up the pieces of their shattered lives.
"We're not supposed to bury our children, they're supposed to bury us," Sydney Stienecker said tearfully. "All that I have now are the pictures and the memories that Kole and I made together. I love and miss my son more than anyone will ever know. Kole, mommy will always love you."