Saturday, July 25th, 2009
Eminent domain threat upsets building owner
By William Kincaid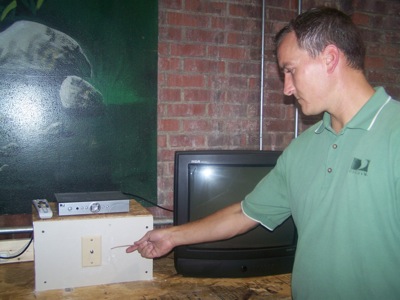 The former Versa Pak building, is neither vacant nor desolate, say its owners John Larbus of Findlay.
In fact, the Skylink Regional Training Center, the business currently housed in the building, has trained over 300 technicians for DIRECTV Home Services and it has been used free of charge by the Celina Police Department and other local committees, Larbus said.
But anyone attending Celina City Council meetings for much of the year wouldn't have known that, as references to its usage and owners have barely been mentioned.
This month, council passed an ordinance stating the city's intention of taking over the property - through the eminent domain section of law because negotiations with the owners have failed.
According to John Larbus, there have never been any negotiations and he has never been invited to any executive session or other meeting to discuss selling the property.
The city's statements and transactions have made a mockery of freedom, notably the Fifth Amendment, Larbus said in a recent interview with the newspaper.
The Fifth Amendment prohibits the taking of property for public use without just compensation.
Celina Planning and Community Development Director Kent Bryan told the council the building had been appraised at $275,000 by two different commercial appraisers.
Larbus said he would entertain any real offer by the city out of common courtesy and curiosity, but he was never interested in appraisals.
In June 2007, Larbus said he purchased the property from Arthur "Rod" Boring of Versailles, who had put a for-sale sign up in front of the building and was asking $500,000.
According to the Mercer County auditor's Web site, Larbus paid $425,000 in 2007.
Larbus wanted the building to move his Findlay station, where technicians are trained to install DIRECTV satellite dishes and products, to Celina.
The director of Skylink's training and quality control program, Scott McWilliams, said he trains employees in the building around three-and-a-half days a week throughout the year. They are later contracted to DIRECTV.
Larbus said he knew the city had some interest in the building, but he personally told Mayor Sharon LaRue and Bryan before he purchased it that he was interested in the building.
"We didn't want to get in their way if anything was going on," Larbus said.
Larbus said a proposed meeting with Bryan and LaRue never happened because he was told she was sick.
Before finalizing the purchase some weeks later, Larbus said Boring informed him the city had not indicated any further interest in the property.
Later on - he was not specific with dates - Larbus said Bryan contacted him about city interest in the property. Even though Larbus said he did not want to sell the building, he listened anyway.
A commercial appraiser was eventually brought in and a date was set by McWilliams.
McWilliams said the actual appraisal seemed odd to him, as only certain parts of the building were actually evaluated.
The $275,000 price was ridiculous, Larbus said.
When asked about the apparent second appraisal, Larbus said he knew nothing about it and said he never consented to a second appraisal.
All during this process, no one with the city - except the appraiser, who claimed to be representing Celina - was in communication with Larbus, he said. Larbus said he was never invited to any meetings.
Larbus received both the city's offer of $275,000 and notification that it could use eminent domain at the same time. He perceived it as a threat, he said.
After receiving the documents, Larbus said he then handed them over to his attorney, who also was instructed to handle any future city correspondences.
But Larbus said he still enjoys the area - and the building is centralized enough for trainees from as far away as Fort Wayne, Ind., Michigan and Ohio to travel to.
While here, the technicians-in-training often stay at local hotels and eat at nearby restaurants, he said.
He also said he wonders why the city wants the property when its service departments can use it anytime free of cost and tax.
This weekend, Larbus is allowing the Lake Festival Committee to use some of the property for parking, he said.
Larbus also said a key was given to the Celina Police Department to use the facility whenever they wanted for K-9 training, which includes officers from other municipalities.
The property was also used by the Freedom Days Committee, and the Governor's Cup Regatta Committee for various purposes, such as a cooling center and place for CNN to tape the fireworks held on July 4.
And in regards to a comments made by a councilman about the property being a mess with several windows broken, Larbus said $16,000 worth of damage from vandals was incurred this summer.
The Celina Police Department, he said, later arrested the suspects after setting up an alarm station at the property.