Monday, July 27th, 2009
Women honored for saving accident victim
By Margie Wuebker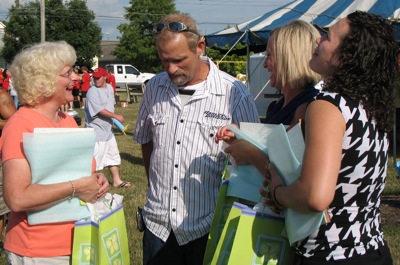 NEW BREMEN - Fate brought three people with medical training to the intersection of state Route 274 and East Shelby Road the morning of June 26 at a time when Steve Patterson needed them the most.
They came together again Saturday for an awards presentation at the New Bremen Firemen's Picnic that drew tears as well as applause.
Patterson, a 52-year-old maintenance man employed by the New Bremen Local Schools, does not remember the grinding accident that occurred when a minivan pulled from a stop sign and hit his 2000 Chevy Astro van. The impact forced his vehicle off the right side of the road where it rolled several times.
Thrown 75 feet from the wreckage, Patterson landed face down in a nearby field with no pulse or respiration.
Doris Krieg, a registered nurse at Heritage Manor Nursing Center in Minster, was working in her garden not far from the intersection when she heard the crash.
"The sound is all too familiar," she says. "There have been other accidents at the same location. It's a bad intersection with the curve and everything."
Krieg, who undergoes CPR training each year as part of her job requirements, ran to the prone figure as Erica Miller, a registered nurse at Children's Medical Center in Dayton, also approached the scene. The Tipp City woman, who planned to visit her parents Pat and Janie Lampert, pulled into a neighboring driveway and asked someone to watch her 11-month-old son Thomas safely secured in a carseat.
The women turned Patterson over about the same time Shakira Adams jumped from her father's vehicle. Adams, a personal trainer at a YMCA in Ann Arbor, Mich., and soon-to-be medical student, was en route to the Maria Stein Country Fest to help at the family's pretzel concession stand.
Both Krieg and Miller knew their patient well; to Adams he was a stranger in dire need of medical attention.
The trio worked feverishly over the still form for several minutes before Patterson started breathing and immediately pushed Adams' hands from his chest. He tried to sit up and chided New Bremen Emergency Squad personnel about cutting the shirt from his body.
Krieg quickly placed a telephone call to Jody Harvey, her co-worker at Heritage Manor and Patterson's girlfriend, before helping pick up a myriad of white sheets and discarded medical supply wrappers at the scene. She found some paper beneath one of the soiled sheets - sheet music for a hymn entitled "It's OK Now, God is Here."
The chance discovery of sheet music that Patterson had stuffed beneath his seat sometime before the accident only confirmed what the three women felt all along - an unknown presence that worked with them as part of a lifesaving team.
Patterson does not recall the ambulance ride to Joint Township District Memorial Hospital in St. Marys amid the wail of sirens or his subsequent transport to Miami Valley Hospital in Dayton aboard a CareFlight helicopter.
Doctors in the trauma unit at Miami Valley determined Patterson had 11 broken ribs, 12 fractured vertebrae in his back, a gash to the back of the head and numerous bruises.
"The doctors just shook their heads in amazement," Harvey says. "They could find no brain damage or paralysis. One of them called it a miracle."
Patterson awakened several days after the accident with no recollection of what had transpired. He was dismissed a week later with a "turtle shell" brace and BLT orders - no bending, lifting or twisting - until the fractures heal.
The three women received engraved plaques from the New Bremen Emergency Squad Saturday afternoon as well as proclamations signed by mayor Jeff Pape. The squad intends to nominate the trio for a statewide award and Readers Digest has expressed interest in printing their story. Their patient listens from afar with a smile tugging at the corners of his mouth.
"I'm a lucky man," Patterson says. "I'm here because of these guardian angels. My life has new meaning - every day is a gift from God. You can't walk away from something like this without being a changed man."
He presented each of them with a token gift - ceramic guardian angels - lest they forget the role they played when fate brought them all together by the side of the road.