Saturday, August 1st, 2009
Auglaize County Fair kicks off 7-day run this weekend
Officials finishing last-minute work in time for Sunday
By Margie Wuebker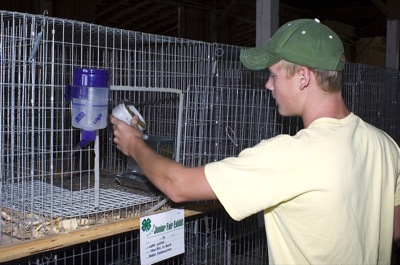 WAPAKONETA - An air of expectancy hangs over the Auglaize County Fairgrounds as workers finish last-minute jobs and concessionaires ready food stands and carnival rides for the 157th fair.
The event, which draws thousands of visitors and participants, begins Sunday and continues through Aug. 8.
"This is the calm before the storm," fair secretary Fred Piehl says. "It won't be long until this place is really hopping and that is what the fair board likes to see."
Planning began more than a year ago in hopes of putting together the right mix of entertainment, contests and special events.
"Our goal is to provide something for everyone who comes through the gates," Piehl says. "We need to give people lots of reasons to visit the fair."
Entertainment ranks high on the list with free performances daily at the Mike Sweeney Entertainment Tent. In addition to four installments of the popular Battle of the Bands, the schedule includes a variety of performers ranging from comedy juggler and ventriloquist Mike Hemmelgarn to the nationally known Mustang Sally group.
Meanwhile, the gospel tent will offer daily programs featuring such groups as Soul'd Out, Just Us, The Pfeifers, Hoosier Harmony and The Isaacs.
Popular attractions at the grandstand include dirt track motorcycle racing, the Extreme Truck Challange, harness racing, wrestling and a demolition derby. There is no additional charge for these events after visitors over the age of 9 plunk down $8 for admission to the fair.
With more than 2,000 youths participating in Junior Fair activities, there is always something going on in terms of competition, exhibits and demonstrations.
Piehl says registration numbers show definite increases in goats, swine, poultry, rabbits and steers while dairy entries have stabilized after several years of declines. Many family and consumer science entries as well as non-livestock and FFA shop and crop projects were judged in recent days and those numbers also remain strong.
"The Junior Fair is particularly exciting because there are new participants each and every year," the fair secretary says. "And that brings even more parents, grandparents, aunts and uncles."
The grounds have sprouted a city of campers and recreational vehicles with an estimated 1,500 residents. The fair remains an annual vacation destination for many families and former residents who now live away from the area.
"Do you think the state of the economy will have an effect on this year's fair?" is a question Piehl hears frequently these days.
He chuckles before replying, "Ask me Aug. 8 when everything is over."
If he was a betting man, the New Knoxville-area resident would wager attendance figures come in the same as or even higher than last year. He still considers the fair one of the best bargains around.

If you go:
Here are the particulars of this year's 157th Auglaize County Fair:
• Dates - Aug. 2-8.
• Hours - gates open daily at 8 a.m. with midway and concessions open noon to 10 p.m. Sunday through Friday and noon to midnight on Saturday.
• General admission - $8 daily; youths 9 and under admitted free.
• Season pass - $25 for the week.
• Special admission days - $2 discount for seniors with Golden Buckeye card or other proof of age on Tuesday; children up to age of 18 also will be admitted free from 8 a.m.-5 p.m. Tuesday; veterans with proof of service admitted free on Thursday.
• Ride wristband specials - $10 noon to 5 p.m.; $12 6-11 p.m.; and $15 for all day. There is a $2 reduction for the first two times on Tuesday in observance of Kids Day.
• Free parking - east and west lots.
• Special service - No golf carts are permitted but the New Bremen Historic Association will provide daily courtesy cart transportation at the east gate.
• For more information - www.auglaizecountyfair.org or call the secretary's office at 419-738-2515.

-Margie Wuebker

Auglaize County Fair schedule:
Sunday
• 10 a.m. - Open horticulture show (horticulture barn)
• Noon - Extreme Truck Challenge (grandstand)
• 1 p.m. - Children choosing Christ (gospel tent)
• 2 p.m. - 4-H Style Review (Junior Fair Building)
• 2 p.m. - Open/Junior Fair beef shows (Show Barn I)
• 4 p.m. - Cake auction (entertainment tent)
• 5 p.m. - Open class barrow/gilt show
• 7:30 p.m. - Just Us quartet (gospel tent)
• 8-10 p.m. - Battle of the Bands (entertainment tent)

Monday
• 9 a.m. - Junior Fair horse/pony show (horse show)
• 9 a.m. - Junior Fair swine showmanship (swine arena)
• Noon - Ribbon cutting (front gate)
• Noon-dusk - New Knoxville historical displays/demonstrations (log cabin)
• 5 p.m. - Ayrshire-Brown-Swiss-Guerney-Jersey Show (Show Barn I)
• 6:30 p.m. - Open horseshoe pitching tournament
• 7 p.m. - District 12 Holstein Show (Show Barn I)
• 7 p.m. - Junior Fair king/queen crowning (grandstand)
• 7:30 p.m. - Dixie Melody Boys (gospel tent)
• 7:30 p.m. - Cheerleading contest (grandstand)
• 8-10 p.m. - Battle of the Bands (entertainment tent)