Monday, August 3rd, 2009
Wiffle ball important in Coldwater
Buzzard's Glory Tournament a tradition since 2001
By Gary R. Rasberry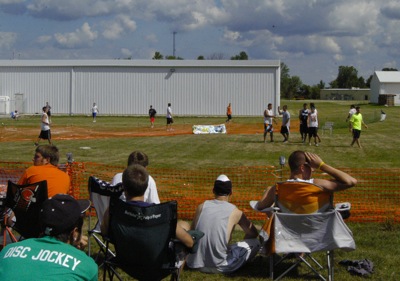 COLDWATER - It's amazing how traditions start.
What was once something to do while parents were away on vacation has grown into a combination of athletic battle and reunion of schoolmates.
In its ninth year, the Buzzard's Glory Wiffle Ball Tournament - known by the initials BGWT with the Buzzard's Glory being the former name of the village of Coldwater - brings together alumni from Coldwater High School to take part in the game they played as youths.
The first tournament started in 2001, while the parents of Joe "Melon" Overman were on vacation.
"Me and a couple friends were sitting around while my parents are still on vacation and we had the whole house," said Overman, who serves as President of the Board of Regents for the tournament. "We decided 'Hey, let's play some wiffleball.' We always played it in the backyard. We called up some friends, got about eight teams (of three players) and played a tournament."
The backyard of Joe and Marlene Overman on Vine Street is still home for the tournament, dubbed Snickers Memorial Field after a late family pet.
This year, 39 players, 38 of whom graduated from Coldwater and one who turned in a resume and cover letter to be considered, were invited to play by the Board of Regents. Friday night before the tournament, teams are randomly drawn and announced. Play started Saturday morning on the two fields that were set up that week.
"Once the tournament got bigger, we had to add the second field 3-4 years ago," said Overman. "It has really evolved since then.
"Used to be we'd have the tournament in July when my folks were on vacation. But once everybody got to college, Jon Dingledine (the Vice President of the Board) and I decided it would be best to do it on Community Picnic weekend when nobody would have to make a special trip. Everybody would be coming home anyway. It worked out well that way."
The rules are simple in the five-inning contest: each team gets two outs per inning and starts with a 1-1 count. If the pitcher gets the ball - provided he's within the infield - before a batter reaches base, the batter is out. Runners are put out by throwing the taped-up wiffleball at them. Home runs are common, but teams are limited to three per inning, with any homers after three being called outs.
And, like anything involving a sport at Coldwater, it's very competitive.
"We're all really competitive. No one wants to look like a fool out there," said Overman. "Everybody's out there trying their hardest, but we try to make sure it doesn't get out of hand. We want everyone to leave here as friends. Don't want to throw punches."
The invitations are considered honors. High school students and younger kids who watched their brothers and older friends play in the tournament look for their chance to take part.
Recent Coldwater grad Alex "Nut" Geier served for two years as official scorekeeper for the tournament. This year after getting his diploma, the invitation was in the mail.
"Got the invitation in the mail and I was excited," said Geier, a standout second baseman on the Cavaliers' spring baseball team this past year. "You come out here and watch and enjoy watching everyone play. It makes you want to come out here and play."
Players keep coming back for the tournament. Some missed the tournament while playing college sports, like former Miami University tight end Tyler Vogel and University of Dayton quarterback Kevin Hoyng, both of whom were playing this year. Some have moved on to bigger things, like Chad Geier, who batted .719 in his career in the tournament (Yes, they keep stats) and now plays in the Great Lakes Summer Collegiate League with the Southern Ohio Copperheads.
"Anytime you can get a group of guys like this together is something," said Kevin Hoyng, who has won three titles and two Most Valuable Player awards in the BGWT and is the all-time home run leader with 56. "It's all for the love of wiffleball. Everybody grows up playing wiffleball and goes back to it after their high school days are over. It's a sport everyone comes back to play."
Teams aren't just playing for bragging rights. Early on, a trophy was purchased and dubbed the Mullaney Cup. This year, veteran player Dan Kanney built a new Cup, one that looks a bit like the Stanley Cup. Awards are also given to the MVP, for working as an umpire and even one for the Least Valuable Player, the one who had a tough time in the tournament. This year's honor went to Alex Hoyng, who went 1-for-10 with five strikeouts - a feat in itself - in two games.
As for the championship, the team of Dave Klepaski, Travis Ahrens and Kevin Eyink made a miracle run. After losing their opening game, the team battled through the consolation round and faced the team featuring three-time Mullaney Cup winner Kevin Hoyng along with Vogel and Doug Borger.
The Klepaski/Arhens/Eyink team held off their opponents to win the opening game 6-5 to force a second championship game. In the final game, Klepaski, who kept cramping up in the later games, hit three home runs to help his team capture the Mullaney Cup 12-9 and earning himself a share of the MVP award - and a bath as friends picked him up and put him in the wading pool nearby - with Eyink, who pitched every game in the tournament. It's the first Mullaney Cup for all three players.
"We went as far as you can go," said Klepaski, who had to play in 10 total games to win it all. "I could still swing, but after I swing, I cramped up. It wasn't that big of a deal."