Thursday, August 13th, 2009
Drivers will try to beat the clock, the old-fashioned way
By Janie Southard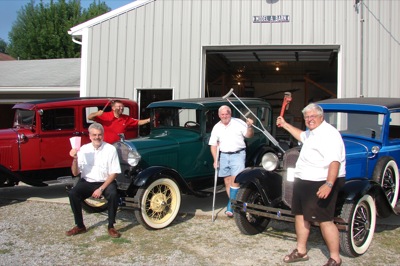 ST. MARYS - Ahooooga! Ahooooga! Stand back!
A trio of old-car owners will vie for bragging rights Saturday afternoon in a race against time right after the SummerFest parade, which begins at 4:30 p.m.
Not that they need rights to brag, they've been boasting about their Model A cars all over town for a long, long time. Finally, finally, this race against time will take place and the true tale will be told. On the up side, the whole thing will benefit area charities as well as lucky ticket holders.
Gary Newton is the guy in charge of tickets, although he actually wanted to get on the road with a couple of these bigmouth guys.
"I drive a Honda Odyssey, which I thought would lend an exotic aura to the event. But they turned me down," a dejected Newton said at someone else's Model A garage hidden in an alley somewhere in St. Marys. (It's need-to-know basis only, so don't ask.)
Leaning against his Silver Bullet Odyssey, he pulled himself together long enough to give contest information, and listen up because it's complicated.
Tickets ($5 each or three for $10) have been printed to color coordinate with the car colors (red, blue and green). You guess your car's speed at the finish line and write your guess on your ticket stub. (City police will clock the speed with radar guns at the finish line on Spring and Wayne streets. The contest begins at the railroad track on Wayne Street.)
Fifty percent of the total pot goes to local charities. The other 50 percent will be paid out to ticket holders as follows: First place, 25 percent for the winning color ticket with the closest correct time; second place, 15 percent for the second-place color with the closest time; and third place, 10 percent for the right color and time.
So who are these Model A owners who are so quick to trade barbs with each other? Read on.
City Mayor Greg Freewalt, driving his red 1930 Model A Tudor (The Red Baron), is running his mouth all over town saying neither Ray Barber and his 1930 Model A (The Blue Streak) nor Nick Schmidt and his 1929 Model A (The Green Hornet) can beat the Red Baron on Saturday or any other day.
"Notice how classy my car is, and roomy. Barber's little blue car doesn't have a prayer on Saturday, if he can even get it cranked up," said Freewalt this week in full bravado. "I think he should have left it in the crate."
Barber pooh-poohed Freewalt's taunts as clearly simply envy.
"Greg and Nick both have those old-men cars with all the doors. My car is sleek and jaunty, eternally young and vibrant," he said patting the car's spare tire.
Schmidt, sidelined by a recent dreadful and rather suspicious accident, will be bringing in an alternate driver, his uncle and former Indy zipster Oscar Otto Schmidt.
"Uncle Oscar is right now in his biplane heading to St. Marys from his Sebring retirement community ... And, yes, the accident that broke my ankle and took me out of the contest is still under investigation. I'm not pointing fingers, but I'm sure I saw two Model A's driving away from the scene," he said.
According to Freewalt, who honed his gift of gab in the political arena, everybody is lining up to get tickets and they're selling like hot cakes. Well, maybe, maybe not. At any rate, tickets are available in St. Marys at the Eagles, Veterans of Foreign Wars, American Legion, Lost in the 50's restaurant, Miller's Cafe and Albert's Sporting Goods.
Gentlemen, stop talking and start your engines.