Friday, August 14th, 2009
Coldwater trio excited for an opportunity to play at OSU
By Gary R. Rasberry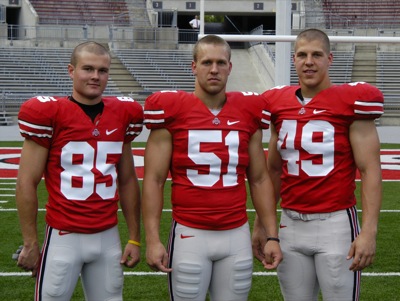 COLUMBUS - In an area that already was rich in traditionally sending football players to Ohio State, the Grand Lake area continues to do its part in supporting the Buckeyes' gridiron program.
From Galen Cisco of St. Marys in the 1950s, Celina's Jim Otis during those legendary years of the late 1960s, through St. Henry's Jim Lachey, the Hoying brothers and Todd Boeckman, the area has had strong OSU ties.
Now, it's Coldwater's turn.
After having Ross Homan representing Cavalier-Land at OSU for three years, reinforcements have been called in, with Adam Homan - the younger brother of Ross, but at 6-4 and 235 pounds certainly not little - and Tony Harlamert joining the freshman class this season, Cavalier fans will have plenty of reasons to take in Buckeye games this season.
While many of the bigger schools in Ohio have had plenty of grads on the Ohio State roster together in the past and presently, little old Coldwater, with a population of under 5,000, has three players on this year's team.
"It's crazy from a D-IV school like Coldwater (having three guys) play at Ohio State," said Ross Homan, a redshirt junior linebacker finishing up getting his degree in Family Resource Management. "Great opportunity. Great situation."
When Ross Homan took off for Columbus four years back in January, Adam Homan and Harlamert were freshmen. Adam followed in his brother's footsteps and graduated school early to get an early start education and football wise, while Harlamert joined the team this season as a preferred walk-on, with a good chance of earning a scholarship down the road.
For the Homan brothers, cousins to former Buckeye quarterbacks Bob and Tom Hoying from St. Henry, it's a chance to team up again four years later.
"It's a great feeling. I had him (as a teammate) in high school," said Ross, who will likely start at linebacker for a second straight season. "It's kind of weird seeing his face around as a teammate now, but I'm truly blessed and having a good time."
Adam is happy that Ross is at Ohio State to help with questions.
"I can't thank him enough for the support he's given me," said Adam, who has the potential to see playing time as a fullback. "A lot of these freshmen, it's difficult for them because they don't have anyone to look up to (while at school). Having a big brother that you're close to, it's been incredible having him here with me."
As for Harlamert, who had chances to go to other schools, Ohio State was the perfect fit.
"It's been a dream come true for me to become a Buckeye. I'm really open to whatever they need me to do," said Harlamert, who is listed as a wide receiver on the roster. "Obviously, a lot of scout team and things like that. Being a freshman, you do a lot of dirty work. That's fine with me."
Coming in during the summer to work out before camp got underway, Harlamert got help from fellow wideouts, not to mention from the Homan brothers.
"A lot of the other wide receivers that were here really helped me out, made me feel like I was welcome here," said Harlamert, who will major in Engineering. "Adam and Ross, obviously, made the transition from Coldwater to Ohio State a lot easier, knowing what to expect and where to be."
Adam Homan thinks that Harlamert will help the Buckeyes.
"Tony's a hard worker. He deserves everything he gets," said Adam, currently undecided on a major. "Having him here, having representation from Coldwater is a great thing for Coldwater."