Saturday, August 15th, 2009
A day etched in World War II veterans' memory
By Margie Wuebker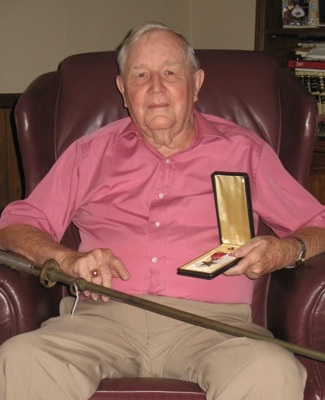 MINSTER - Fred Boecker grips the etched hilt firmly and draws the ceremonial sword from its protective scabbard.
The pointed blade looks as menacing to Boecker today as it did in August 1945 when a Japanese officer bowed before him and handed over the weapon as a sign of unconditional surrender
"I'll never forget that day," the 89-year-old U.S. Army Infantry veteran says. "I think he was as relieved as me the war had ended."
The war once seemed so far away for Boecker, a college student with three years of business administration and accounting studies under his belt. That all changed when the Japanese attacked Pearl Harbor Dec. 7, 1941.
"I was drafted one month to the day later," he recalls. "I went in a private and came out a captain."
After five months of grueling basic training, he applied for and received an appointment to Officer Candidate School at Fort Benning, Ga. He graduated Sept. 17, 1942 with a second lieutenant commission and headed home on a 10-day furlough. He married his high school sweetheart Martha Rulmann before heading to Camp Shelby, Miss., as a platoon leader in charge of training recruits from all over the country.
"We had no idea at the time if we would go to the European or Pacific Theatres," Boecker says. "It didn't matter; we had to be ready for anything that came our way."
The 31st Infantry Division headed overseas in February 1944 and wound up in the jungles of New Guinea clearing out Japanese resistance. Conditions were so bad there many men labeled the military action "a war of mud, mountains, malaria, mosquitoes and monotony."
In September, the division climbed aboard "Liberty ships" and set sail. Soldiers had no idea where they were headed but accompanying destroyers and flat top vessels indicated the destination would be anything but peaceful.
Naval destroyers began bombing the coral-rimmed beaches of Morotai at 4 a.m. in preparation for landing. Boecker remembers scrambling down a rope ladder to the landing craft with a knot in his stomach not knowing what awaited,
The landing craft got stuck on the coral reef. Soldiers, seemingly oblivious to the 50-pound packs strapped to their backs, entered the waist-high water taking care to keep rifles high and dry.
"The first wave hit at 8:30 a.m. and I was part of the second wave at 8:35 a.m.," he says. "The Navy certainly did a good job; we met no resistance. General Douglas MacArthur was there on the beach at 9 sharp."
The seven-month mission involved securing a 3-mile long peninsula so the Engineering Corps could construct an airfield. Japanese soldiers crept in from interior jungles under the cover of darkness inflicting damage and injury until they were eliminated.
His troops encountered their worst skirmish of the war in May 1945 on the island of Mindanao in the Philippines. The Japanese, heavily entrenched in a wooded area, were waiting with small arms and machine guns as unsuspecting soldiers marched along a dirt road known as Sayre Highway.
Many fell amid the heavy barrage - some wounded, others dead. The Rev. Thomas A. Colgan, unit chaplain, died administering the last rites to fallen comrades.
Boecker, a transportation officer, saw a seriously wounded acquaintance, Capt. Percy Neidlinger, and went to his side. "Buck, you got to save me," he said.
The Minster man commandeered all available vehicles and rounded up men who could be spared and ignored heavy fire in order to rescue the wounded and transport them to field hospitals at the rear.
Boecker not only received a bronze star for his efforts but the satisfaction of knowing Neidlinger survived due to immediate medical treatment. Their friendship has endured for decades.
He was on duty in central Mindanao on Aug. 15 when a message arrived - "Japan has surrendered, return to base camp immediately, take utmost precautions."
"We were in the mountains," Boecker explains. "I told the men 'Let's go!' I held the compass out and headed for the right place."
Military planes dropped pamphlets across the island informing Japanese soldiers of the surrender and ordering them to report to various surrender points - one of which Boecker had charge.
"We saw them coming in the distance and we were ready," he says with a flash of excitement returning to his eyes. "The soldiers marched in and laid down their weapons. It was apparent they were as relieved as we were the war was finally over."
A short man left the company of 150 to 200 men and walked in Boecker's direction unbuckling the sword from his belt. Hands quickly tightened around the guard rifles because no one knew the nature of his intentions.
The officer, with a chestful of medals befitting his rank, bowed and spoke rather eloquently before handing the sword to Boecker and returning to his men. A calmness descended over the area and later a supply sergeant quickly prepared a wooden box to ship the memento home lest it become lost.
"Memories of the war remain clear as a bell," the retired Goodyear Tire & Rubber Co. accountant says turning his attention back to the sword. "Some things you never forget."