Monday, August 17th, 2009
Mercer County Fair earns national recognition
By Gary R. Rasberry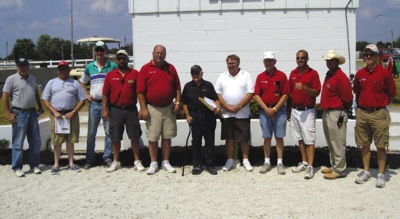 Compiled by Gary R. Rasberry

The Mercer County Fair harness racing program received a national award as the first of three days of racing kicked off on a hot Sunday afternoon at the grandstand.
The United States Trotting Association, the main organizational body of harness racing in the United States, presented the fair with its Blue Ribbon Fair Award, one of only approximately 40 fairs nationwide to be presented with the honor since 1997. USTA director Jerry Landress presented the award to Fair board members and members of the Speed Committee that oversees the harness racing.
As for Sunday's races, several drivers picked up two wins on the day. Brandon Bates scored a win for his family with pacer LT Commander in the Bates Memorial, named for Don and Nancy Bates, then capped off the day with a win on Lightning McQueen in a condition pace, posting the fastest pace time of the day in 2:001/5.
Bates' win in the fifth race was sandwiched by wins from Richard Holsapple, who drove pacer Moneyline to the lead down the stretch to edge Loansharkjack in a condition pace in the fourth race, then came back in the sixth with Smart Investment.
Tyler Smith got his first win of the day in the opening race, going wire to wire on Clara G in a Western Ohio Super Stakes pace, then came back in the seventh race to win a condition pace with Candy's Clown.
Mark Winters, no stranger to the Mercer County winner's circle, took MandM Willeedee to victory in a Super Stakes pace in the third race of the day, passing Velvet Girl down the stretch to take the win.
Also winning were John Konesky III, who took trotter Sassey Saurterelle to a wire-to-wire win in the second race, and Larry Farley, who won on trotter Prime Number in the eighth race.
The second of three programs of racing at the fair takes place tonight at 7:30 p.m. The Grand Lake Trot, part of the Signature Series, highlights the eight-race card.

Harness Racing:
Entries for Tuesday's harness races at the Mercer County Fair. Type of race and race sponsor in parentheses. * - Driver subject to change.

Race one (Western Ohio Super Stakes 2-year-old colt pace; Shinn Brothers and Wilson Shoes)
Horse Driver-*
Sadies Gamer Chris Page
Cyalater Mark Winters
Lima Cosmic Kyle Ater
Pingtacular Tom Hope
Hez Automatic Mike Evans
Game Gordan Greg Bateson
Race two (Super Stakes 3-year-old colt trot; Kerns Auto Group)
Ultimate Control Steve Boroff
Speed O Begonina Sherald Haynes
Ruff Stuff Spur Ed Greeno Jr.
Home Kid Harold Dick
Race three (Super Stakes 2-year-old colt pace; Citizens National Bank)
Colossal Crusier Mark Winters
NW's Dream Toy David Repine
Show Me Glory Mike Evans
Sadies Love Boat Chris Page
Mike-N-Mike TBA
Alex Capital Kyle Ater
Twitty's Havin Fun Tom Hope
Race four (Super Stakes 2-year-old colt trot; County Commissioner Bob Nuding and Dominion)
J H Spur John Konesky III
Jailhouse Andy Greg Bateson
Triple G Harold Dick
Senator Sam Don Pfister
J J Sebastian John Ingram
Jailhouse Dale TBA
Race five (Super Stakes 3-year-old colt trot; Nylon Harness Shop/In Memory of Janet Orick-Roy Orick)
Crusin Waverly Don Pfister
Mr. Ballistic Anthony Price
One More Yankee Mark Winters
JJ's Golden Jet TBA
U Betta Winna Mike Evans
Valid Moment Tyler Rush
City Cruiser Mark Winters
Race six (Super Stakes 3-year-old colt trot; VFW Post 5713 Celina and Celina Moose Lodge 1473)
Hi-tech Lavec Harold Dick
Maxine's Boy Can Ed Bibler
Wen-Mar's Chip Sherald Haynes
Swagger Begonia Sherald Haynes
Master Buckin Uhl Mark Winters
Race seven (Condition pace; Celina FOE 1291)
Wildfire Princess Don Pfister
Noble Huebie Stepanie Huebner
New Lady D Chris Page
Northern Spider Anthony Price
Capt. Silverheels Steve Boroff
Candy's Clown Tyler Smith
Miss Camotion Anthony Price
Victoria Bridge David Brumbaugh
Race eight (Grand Lake Pace/Samples Memorial; Chuck Samples Construction and Mercer County Harness Horsemen's Association)
Caramel Dumpling TBA
Lookout Macaroo Tom Hope
Lotsabelief Justin Hall
Look Chad Chad Leyes
Jimmy's Scooter Jeff Nisonger
Big City John Ingram
Race nine (Condition pace; Jim Highley, Mercer County Clerk of Courts)
Best Lookin Jerry Downey
Medoland Carter Tyler Rush
Call Me Denzel TBA
Imacrusinby Anthony Price
Misty Mornin Girl Tyler Smith
Roedo Dragon's David Brumbaugh
Becken Sandy David Repine.