Wednesday, August 19th, 2009
St. Henry wins county title at The Fox's Den
By Gary R. Rasberry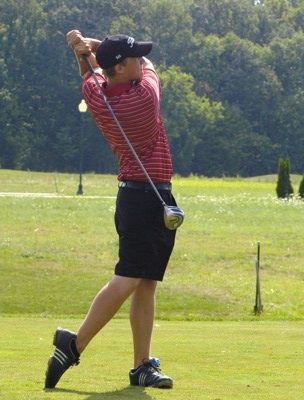 Compiled by Gary R. Rasberry

St. Henry worked through an occasionally brisk wind to capture the Mercer County boys golf invitational title on Tuesday at The Fox's Den with a round of 332. It's the third time in four years the Redskins earned the county crown.
Course host Celina was six strokes back in second with a 338 with Coldwater third at 363. Marion Local (372), Parkway (377) and Fort Recovery (446) rounded out the six teams.
"This turned out to be kind of a tough day with the wind picking up like it was," said St. Henry coach Charlie Maier. "It (the course) was soft with the rain and everything, but it was still kind of tough. Lot of kids had some problems, but there were some decent scores."
The Redskins posted the two best scores of the day, as Doug Bruns earned county medalist honors with a 79, one stroke better than teammate and runner-up Chad Gerlach, who carded an 80. Alex Kramer of Coldwater took third with an 81 with Celina's Tyler Menchhofer shooting an 82 for fourth place. Nick Fisher of Coldwater rounded out the top-five with an 83.
Corey Decker led Parkway with an 89 with teammate Brad Shaffer shooting a 95. John Elking was low man for Marion Local with a round of 86. Jacob Liette added a 92 for the Flyers. Fort Recovery was led by Jared Kahlig's 87.
St. Henry made it a clean sweep in taking the junior varsity match with a round of 379, with Marion Local second at 383. Seth Watercutter of St. Henry earned jayvee medalist with an 89.
"I was surprised with my jayvee team. Last week we were here (for the Celina JV Invitational) and we had like 417. Today, 379. That's a big improvement," said Maier.
The Fox's Den will host the Celina Invitational on Friday.