Thursday, August 20th, 2009
Mercer County Fair closes briefly for strong winds
By Betty Lawrence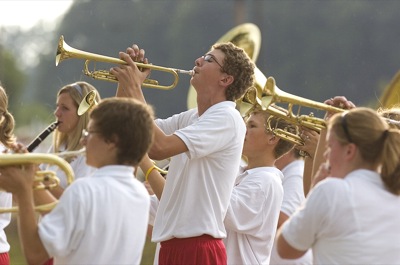 A big wind blew through Mercer and adjoining counties early Wednesday evening, shutting down the Mercer County Fair for approximately 45 minutes.
There were no injuries or damage at the fairgrounds, fair secretary Jackie Lacy said this morning.
"The sheriff's department contacted us and asked us to shut the fair down because of a tornado watch that had been issued by the National Weather Service. We had some wind and asked people to go inside buildings, but it didn't last long," Lacy said.
The only fair casualty was the high school marching band show in front of the grandstands.
The St. Henry Band had the national anthem and one number under their belt before the show was cancelled due to lightning.
According to Jim Lott, a meteorologist with the National Weather Service, a tornado watch was issued for the southern part of Mercer County, along with Auglaize and Darke counties at 7:12 p.m. Wednesday.
"There were reports from Darke County of funnel clouds in Ansonia and Rossburg at 7:22 p.m., but nothing touched down," Lott said.
"There were hail reports from Sidney in Shelby County and the rain was sporadic, from very little in Mercer County to 1-2 inches south of there."
According to Mary Beth Weaver, a spokesperson for DP&L, approximately 15,000 customers, primarily in Darke, Shelby, Miami and Montgomery counties, experienced power outages from the storm. All but 50 were powered back up by this morning, she said.
The Mercer County Sheriff's Department did get a call late Wednesday evening of a tree falling on a residence at 7353 Ohio 219, Lot 2 in Franklin Township.