Thursday, August 27th, 2009
No longer a dream; it's an achievement
By William Kincaid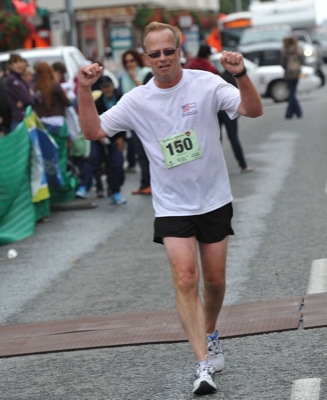 Celina resident Dan Uhlenhake approached the starting line of Humpy's Classic Marathon in downtown Anchorage, Ala., on Aug. 16 with the same demeanor he had employed at other races.
"I've done so many of them, it's just another day," the 58-year-old runner and manager of Grand Lake Builders Supply told the newspaper.
But this was not just another day. It was the end point of a dream Uhlenhake hatched nine years ago: running marathons in all 50 U.S. states.
Uhlenhake said he didn't become emotional until the last mile when he realized his dream was almost realized.
Upon his arrival home last week, Uhlenhake was honored at a surprise party held by the Celina Rotary Club to celebrate his achievement.
He finished the Alaska run in four hours and 48 minutes - an average time by Uhlenhake's standards.
"I kept the same routine and schedule all the way through the first one to the last one," Uhlenhake, who usually runs 35 miles a week, said.
After quitting smoking nine years ago, Uhlenhake started going to the local YMCA to combat an overall feeling of illness with exercise. Running, Uhlenhake soon discovered, was the only activity he liked.
Six months later Uhlenhake completed his first marathon in Columbus. He continued running in marathons across the Midwest and heard about another runner who was trying to complete a second set of 50 marathons in 50 states. Uhlenhake liked the notion of running throughout the country and soon began his quest.
Some of Uhlenhake's more memorable runs include marathons in Death Valley and New Mexico. At the New Mexico race, WWII veterans and those wounded in Afghanistan and Iraq greeted runners.
A marathon in Oklahoma City also proved indelible, as much of the community volunteered to help with the race.
Even though he ran 26-mile races, he was able to absorb the scenic qualities of each state, he said.
While running, he would often befriend other athletes and actually engage in conversation. They talked about their families and things to do while sojourning in whatever location Uhlenhake was at.
"When you're talking, you're running at a good pace," he said, pointing out the encounters add to the experience and mystique of each race.
His wife Sandy was always supportive of Uhlenhake as he took on each race.
"She got to travel with me to most of them," he said.
Asked if he has a new goal, Uhlenhake said he is still considering a few possibilities.
"I'll run some (marathons) - I don't know if as many or as often," he said.
Uhlenhake also commented on doubt and perseverance during his nine-year tour of the country.
"Well, sometimes you would wonder," he said when asked if he thought he would complete marathons in all 50 states.
Throughout the years, he ran in various weather conditions, from the blistering heat of Arizona to the 30-mile-per-hour cold winds of Detroit.
"It was a ball," he said about his finished quest.