Friday, August 7th, 2009
Mariners win in a wild ninth
Hoying ties score with solo home run and wild pitch brings home the winning run
By Gary R. Rasberry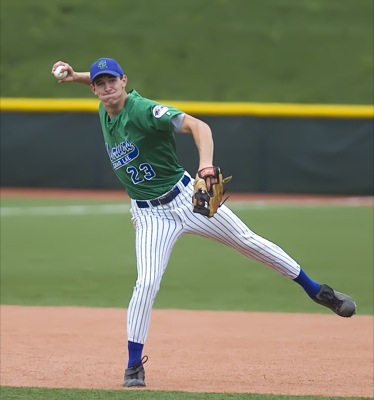 XENIA - With the team just three outs away from being knocked out of title-game possibilities, Grand Lake skipper Brandon Tormoehlen went to his best hitter and told him it was time to be a hero.
Jared Hoying responded.
Hoying hit a solo home run to start the ninth that tied Xenia 2-2, setting off a series of events that ended with pinch-runner Bo Felt scoring on a wild pitch to give the Mariners a 3-2 win in the Great Lakes Summer Collegiate League tournament at the Athletes In Action Sports Complex in Xenia.
The win evens the Mariners' tourney mark at 1-1 and, more importantly, keeps the team's chances for playing in the championship game tonight intact.
The Mariners will look for Xenia (0-2) to beat Cincinnati in today's 10 a.m. game. If the Steam (1-1) lose, the Mariners will need to beat Southern Ohio in the 1 p.m. game to earn their pod's berth in the 7 p.m. championship game. The Mariners won three of four from the Copperheads this season, while Cincinnati won all of its three meetings with Xenia.
"If we win and Cincinnati loses, we'll be in," said Tormoehlen. "We're going to need a good effort out of guys tomorrow to get the W. If we can get the W against a good Southern Ohio team, hopefully Xenia will knock off Cincinnati and that will give us a chance for the championship."
Grand Lake again got a solid pitching effort from its starter. This time, Michael Hauschild went 61/3 innings, allowing two runs and three hits with five strikeouts before Cal Bowling came on in relief in the seventh. Bowling scattered three hits over the final 22/3 to get the win.
"Pitching-wise, we did a great job," said Tormoehlen. "... Mike did a nice job coming out and throwing strikes. I think they hit one or two balls hard all day. Pitching-wise, we're doing a great job throwing strikes. We have to continue that tomorrow."
The Scouts got their runs on a minimum of hitting. In the first, Rob Kuzdale walked and, after an out, stole second and made it to third as the pitch home was wild. Case Rigby scored Kuzdale with a groundout.
In the fifth, Andrew Douglas singled and went to second on a sacrifice bunt. After another groundout, Harman Watkins singled in Douglas to make it 2-0.
It wasn't until the bottom of the fifth that Grand Lake was finally able to get something off Scouts starter Tyler Bersano. Andrew Host led off by reaching on an error and went to second on a Bersano balk. Matt Hill brought in Host with an RBI single.
But Bersano came back to retire nine of the next 10 batters, allowing only a Tyler Rogers double in the seventh.
In the ninth, Hoying stepped up first and took a 1-0 Bersano offering over the fence in right to tie the game.
"Jeff (Holm) told me he threw five straight change-ups in his last at-bat," said Hoying. "He threw me a change-up into the dirt. Next pitch he left his fastball up and in. I just drove it.
"I knew it was gone right away. It was one where you can't feel it. You just hear it and see it through."
"I walked up to him before he hit and told him to be a hero," said Tormoehlen. "He's been the guy, for the most part, that's been driving in our runs. He's slugging .750 for the year. When we need the big hit, he'd come up and give us the big hit."
Following Hoying's home run, Gabe DeMarco worked the count full against Bersano before drawing a walk. Tormoehlen called on Felt to run for DeMarco as Mike Click came on for Xenia to try and end the inning. Rogers stepped up and bunted Felt to second while Zach Tanner came up to pinch-hit and lofted a fly deep enough to center to send Felt to third.
Hill came up to the plate and had the count at 1-1 when Click threw one low. The ball went to the backstop, allowing Felt to trot in with the game-winner.

Thursday's other games
Licking County 5, Cincinnati 3
The Settlers continued their domination against the Steam this season, after having won three of the four regular-season games.
Joe Muraski and two relievers combined to hold Cincinnati to eight hits and just a three-run outburst in the fifth inning to get the win.
Chris Serritella went 3-for-4 with two RBI for Licking County (1-1) while Dan Bucholz and Steve Davis each added two hits.
T.J. Jones and Tim Issler each had two hits for the Steam (1-1).
Lima 2, Southern Ohio 1
The Locos improved to 2-0 in their pod and all but sewed up a spot in the championship game after winning a close battle against the Copperheads.
A win for Lima over Licking County today at 4 p.m. would give the Locos the berth. A loss will trigger a tiebreaker that would be based on fewest runs allowed.
The Locos got the go-ahead run in the seventh when J.D. Ashbrook was hit by a pitch and went to second on a passed ball. Ryan Bridges grounded out to move Ashbrook to third, followed by another passed ball that allowed Ashbrook to score the winning run.
The Copperheads tried to rally in the top of the ninth. Jeff May led off with a single before pinch-runner Ryan Burnett stole second and went to third on a groundout. Taylor Davis then walked and Brian Hiscox struck out before Coldwater grad Chad Geier grounded out to end the game.
Chris Sosebee had two of the four Lima base hits.
Justin Marrero went 2-for-4 for the Copperheads while Geier was hitless in four at-bats.

GLSCL Tournament Update:
Update from the action in Xenia at the Great Lakes Summer Collegiate League baseball tournament.

Thursday's scores
Licking County 5, Cincinnati 3
Grand Lake 3, Xenia 2
Lima 2, Southern Ohio 1
Friday's games
Cincinnati vs. Xenia, 10 a.m.
Grand Lake vs. Southern Ohio, 1 p.m.
Lima vs., Licking County, 4 p.m.
Championship Game
Pod 1 winner vs. Pod 2 winner, Friday, 7 p.m.

Standings
Pod 1
Lima 2-0
Southern Ohio 1-1
Licking County 1-1

Pod 2
Cincinnati 1-1
Grand Lake 1-1
Xenia 0-2