Saturday, August 8th, 2009
Breaking up is hard to do
By William Kincaid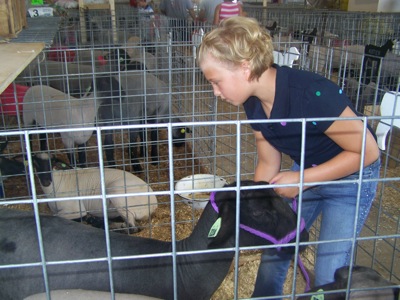 WAPAKONETA - Brianna Jurosic is carrying on the family tradition of raising lambs.
In her second year of competition at the Auglaize County Fair, she still has trouble letting go of the animal she raised. Her lamb Nixon was to be auctioned away later in the day.
"I was really attached to mine," the 10-year-old from New Knoxville said Friday during the market lamb show, pointing out the thought of selling Nixon made her cry.
Jurosic said she would have liked one more month with Nixon.
"They name them and get really attached to them," Jurosic's father, Nate, said. "But they know going in they're not going to keep it."
Brianna and her friend, Ashley Scott - an 11-year-old also from New Knoxville - picked out their lambs around January. Qualities to look for include long loins, which yield premium slices of meat, and square hips.
Brianna and Ashley soon began feeding, watering and exercising their lambs.
"The girls get used to setting them up so they show well," Nate Jurosic said.
Brianna said she had to halter-break, or train, the lamb to be led. Asked if it is difficult, she said it depends on whether the lamb is tame or a little crazy.
For over six months, the girls worked with their lambs for two hours a day.
"I think it teaches a lot of responsibility," Nate Jurosic said. "It's a good experience."
He also raised and entered lambs in the fair for 10 years. His family raised lambs on 80 acres of land known as Circle J Farms for 25 years.
"Our lambs are a lot better today than they were 15 years ago when I showed," he said.
Ashley's father, Kevin, who also was at the fair on Friday, said the girls work hard, but are not too competitive.
"They want to do good," he said.
On Tuesday, Brianna's other entry, Clover, a black ewe sheep, won first place in its class.
"She was pretty pumped," Nate Jurosic said.
Clover will go home and return to the flock, while Nixon, the white wether, eventually will be slaughtered.
Both Brianna and Ashley said they want to continue entering lambs in the fair for years to come.

Last day of the fair:
The 157th Auglaize County Fair enters its final day today with these activities:

Today
Noon - Speed show (horse arena)
1 p.m. - WAR Wrestling (grandstand)
1 p.m. - Horseshoe tournament Class B (horseshoe pits)
4 p.m. - Open market barrow/gilt show (under tent)
5 p.m. - Woodcarving auction (grandstand)
6 p.m. - Moon City NTPA Regional Truck Pull (grandstand)
7 p.m. - Animal calling/decorated animal contest (show barn)
7:30 p.m. - The Isaacs (gospel tent)
8-11 p.m. - Teen dance (junior fair building)
8-11 p.m. - Mustang Sally (entertainment tent)