Wednesday, September 2nd, 2009
Redskins take down Bulldogs in three
By Mark Ruschau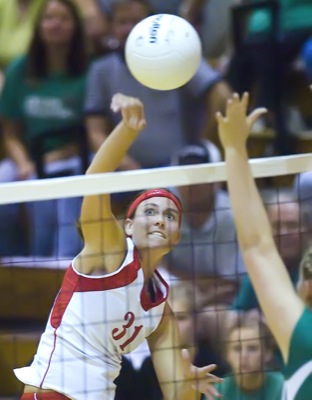 ST. HENRY - Everyone who has ever gone to a volleyball match has been wowed by the power of the hitter.
However, aficionados of the game know that is more to the game then hitting, liking playing defense, serve reception, showing poise under pressure and serving the ball.
The St. Henry Redskins put together a match that even the most ardent of fan would enjoy as they defeated the Celina Bulldogs 25-23, 25-17, 28-26 Tuesday at the Middle School Gymnasium in an early season showdown of teams that were both regional runner-ups in 2008.
With the win, St. Henry improves to 4-0 on the season while Celina falls to 1-1 with the loss.
St. Henry did have its hitting game going full bore, recording 38 kills with six different Redskins having at least four kills each. Kenzie Bruggeman and Katie Hoying led the St. Henry hitting attack with 10 kills apiece.
Olivia Hart chipped in with eight.
"We got at least five kids that we can go to any time and that showed tonight," said St. Henry coach Lori Schwieterman. "Our setters are inexperienced and what our hitters need to tell them is who to get the ball to in the good spots and I thought we did a good job of communicating at times."
St. Henry's defense did a decent job shutting down the Celina hitting game, limiting the Bulldogs to 27 kills.
"I thought we played pretty good defense tonight," said Schwieterman. "Celina did a nice job of hitting the ball but we also gave them a lot of points off of unforced errors, but a win is still a win."
"I thought St. Henry played better defense then we did tonight," said Celina coach Carolyn Dammeyer. "I feel that defense is the most important part of this game. You can have all the hitters that you want, but if you cannot serve receive or play defense you are not going to win too many games."
Celina used a 12-1 run midway through game one to turn an 8-5 deficit into a 17-9 lead. Three service winners by Cenzie Yoder and three kills by Erin Dorsten keyed the run.
That was to be the high water mark for the Bulldogs as the Redskins went on an extended run of their own, scoring 12 of the next 13 points to take the lead for good at 22-18. After a kill by the Bulldogs' Morgan Weininger, the Redskins got kills from Emily Post, Brandi Elking and Bruggeman to close out the game.
"I thought we showed a lot of poise tonight, especially when we fell behind in the first game," said Schwieterman. "We knew Celina was going to come out and play hard and we knew that if we played hard as well that we would be able to get back in the game. We did not lose our poise, we did not panic, we just played our game and got back in it.
"I thought our seniors did a great of showing leadership tonight," continued Schwieterman. "When we got behind tonight, I thought they did a great job of showing leadership and keeping the team together."
St. Henry fell behind early in game two, trailing 4-1 and 5-4 before going on an 11-5 run to take the lead for good at 15-10. Bruggeman had three kills to key the run.
In the third game, Celina again took an early lead, racing out to a 10-4 advantage behind three kills by Yoder and two kills each from Julie Klosterman and Weininger. After St. Henry closed to within 11-6, Celina scored nine of the next 13 points in the game to take a 20-13 lead on a kill by Klosterman.
St. Henry got kills from Hoying, Post, Kaitlin Kremer and Elking to key a 5-1 run that pulled the Redskins to within 21-18.
Celina took advantage of two St. Henry hitting errors and a kill from Kelsey Mastin to take a 24-21 lead.
St. Henry then came roaring back as kills from Bruggeman and Post and two Celina hitting errors gave the Redskins the lead at 25-24.
Celina then took its last lead of the game on a kill from Mastin and a St. Henry hitting error.
The Redskins would not be denied however as Hoying and Hart combined on a block to tie the game at 26. After a Celina miscue, Post ended the game with a kill.
St. Henry is back in action on Thursday traveling to Fort Recovery to open Midwest Athletic Conference schedule. Celina is also back in action on Thursday as it opens Western Buckeye League play at Defiance.