Thursday, September 10th, 2009
Stewart wins Prelude for third time
By Mike Ernst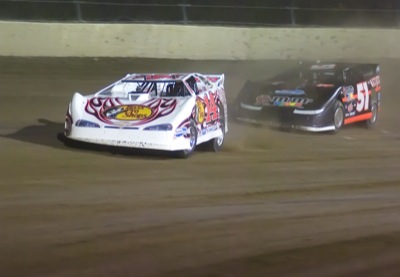 ROSSBURG - Eldora Speedway owner and two-time NASCAR Sprint Cup Series Champion, Tony Stewart dominated Wednesday night's 5th annual Prelude To The Dream charity race at the high-banked, clay oval. It was Stewart's third win in the event, which pits NASCAR and NHRA stars in dirt late models.
Stewart was hoping to raise one-million dollars for four military-themed charities.
"This was probably the best I've run in the Prelude. We won last year, I think we led the whole thing, but this was one I had to work for," Stewart said. "We weren't exactly perfect, and we weren't perfect because I hit the wall on the first two starts right off the bat. I'm sure there is a lot of bent up stuff on this Rocket Chassis car, so I'm just really proud of Mark and Josh Richards and all of these fans here that watched tonight."
Stewart opened the night by setting a new event qualifying record with a time of 15.401 seconds around the half-mile. Stewart's only blemish was a second-place finish to Jimmie Johnson in the first heat race.
The initial start of the main event saw outside front-row starter Clint Bowyer get the jump and take the lead but when A.J. Allmendinger brought the first caution flag of the night after smacking the turn-three wall, the race would have a complete restart.
Inaugural Prelude To The Dream winner Kenny Wallace used his pole starting position to grab the lead on the restart. The caution quickly reappeared when Ray Evernham coasted to a stop in turn one. Wallace would continue to hold the lead despite some very competitive racing behind him.
Stewart, who started sixth, was locked in a furious fight for position with Bowyer, Kyle Busch, Matt Kenseth and Ryan Newman. The five drivers swapped positions in nearly every turn as they closed in on lapped cars on lap 10.
On lap 12 Stewart, who also won the charity race in 2006 and 2008, made a banzai move in turn one to take the top spot. "Smoke" had driven around the outside of Bowyer in turns three and four and then into the top spot with a perfect slide job in turns one and two to pass Wallace.
"It was like everyone moved in the direction I needed them to move in order to get to the front," Stewart said. "I couldn't really run on the bottom, but they seemed to all open up on the top and that let me get the spots."
One lap after taking the lead, Stewart would again see the caution flag wave as Marcos Ambrose, Casey Mears, Robby Gordon, Ken Schrader and Joey Logano crashed in turn three.
On the restart, Stewart bolted out in front, while third-place Bowyer made contact with Wallace, nearly spinning Wallace, but Wallace saved the car only to retire to the pit area with a flat tire.
"You know, it's disappointing because I take this as a real race," Wallace said. "We led, Tony was just really fast, he got by us. And then Clint (Bowyer) got into my left rear and flattened it out, so it was a real bummer. It's disappointing. On to Richmond."
"I didn't mean it," Bowyer said of the contact with Wallace. "Kenny spun his tires on his restart and kind of came across my nose. I tried to miss it, but he was already spinning. That's the thing about these cars. You break traction and you can't get it back. You can't back-pedal enough. I had momentum in that deal."
With Stewart gradually pulling away from the field, the best battle on the track would be the fight for the runner-up spot between Bowyer and Busch.
Busch would make several attempts at the lead but could never clear Bowyer and Bowyer, driving a car he owns, finished in the runner-up spot.
He (Stewart) works his butt off for this event. Man, it's only right that he does win it," Bowyer said. "You put that much work into something and he wants to win, too. He's a competitor and he runs good. He's one of the best racers in the world, and he showed it again tonight."
Busch, driving a car owned by dirt track legend Scott Bloomquist, would have to settle for third-place, but was happy with his night overall.
"It's tough to beat the track owner at his own track," Busch said. "Nah, I'm just joking. It was great. Scott Bloomquist was a great help for me. It was really cool to come out here and have some fun, get a good run. Last year, I struggled here a little bit."
Newman held off Kenseth in their battle for the fourth and fifth, while drag racer Cruz Pedragon impressed many by charging from 16th starting position to a sixth-place finish.
"I had a good car, but fatigue started to set in," Pedragon said. "I knew where I wanted to run on the track. Parnelli Jones once told me, 'You've got to go where they're not.' My plan was to do what I did: slide guys and I wanted to make sure I cleared them.
"You know, for a drag racer, I've probably raced 12 Late Model races in my career that started about three years ago thanks to Tony and his whole group here. This is the most fun type of car I've ever driven."
The remainder of the top 10 consisted of Aric Almirola, who won the third heat race, Dave Reutimann, second heat-race winner Kasey Kahne and Johnson.
West Virginia's Jacob Hawkins led flag-to-flag to capture the UMP Modified feature event. It was the 18-year-old Hawkins' first win at Eldora. He beat points leader Jason Wheatley to the flag by nearly a straightaway.
Chad Ruhlman, driving for Mercer County car owners Chuck Sanning and Bill Dues, finished in third-place ahead of Todd Sherman and Davey Gantt.
Defending track champion Mike Dirksen led the entire 15-lap Eldora Stock Car main event to pick up his fourth win of 2009. Rob Trent, Barney Craig, Mendon's Jason Kinney and Jeff Babcock completed the top five.
The race, which drew more than 23,000 fans, was broadcast live on HBO Pay-Per-View with proceeds from the nationwide telecast supporting four military-themed charities - Wounded Warrior Project, Intrepid Fallen Heroes Fund, Operation Homefront and Fisher House. Each has a mission that outlines assistance to the courageous men and women who serve their country and need additional support both during and after their time of service.
"The Wounded Warriors Project, Fisher House, Intrepid Fallen Heroes Fund and Operation Homefront, that's who this money's going to tonight," Stewart said. "Thank you to the fans. You guys helped us do this and you're the reason we were able to do this tonight. I just really appreciate the support that our fans give us here. We also can't thank the drivers enough. With the rainout in June, it really means a lot that they were able to rearrange their schedules and come out and help us do this tonight."
With all that being said, Stewart said fans can count on the sixth annual event next fall.
"We're proud to do this. Thanks to Gillette and HBO, we've been able to do more than we ever thought here at the Prelude. The fans keep making it bigger and better every year. As long as the fans keep coming and I can keep getting drivers to come out, we're going to keep doing this every year."