Friday, September 11th, 2009
Bulldogs post an emotional victory
By Ryan Hines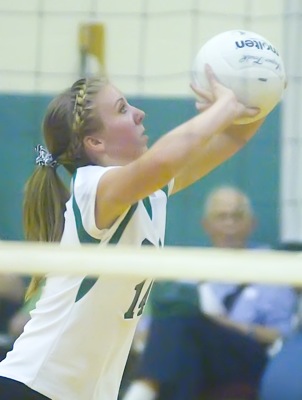 Three-game wins on the volleyball court are usually not very emotional, but that wasn't the case for Celina on Thursday.
After the unexpected death of her mother earlier this week, Celina volleyball head coach Carolyn Dammeyer watched her Bulldogs roll past Wapakoneta 25-9, 25-15 and 25-9 to keep a perfect record in the Western Buckeye League intact.
Celina (6-2), the heavy favorite to win the WBL again this season for a 23rd time, is one of four teams left in the league standings with a 2-0 mark. Wapakoneta is now 1-3 this year and 0-2 in league play.
Dammeyer was happy to see her team come out and play with emotion while steamrolling Wapakoneta.
"Yesterday, I couldn't even hold practice because I found out about 20 minutes before then that my mother had passed away," said Dammeyer about her mother, who was a frequent attendee of Bulldogs matches. "I think the girls then motivated themselves to play with emotion to win this match and it showed in their play. I thought that this was the best that we have played all season. I'm mourning my mother's death, but I know that she would have wanted me to be here to coach these girls and I'm just proud of the way that they played tonight."
Celina's domination started from the beginning by jumping out to a 9-1 lead in game one. Julie Klosterman and Maria Dorsten helped the Bulldogs get out to the quick start as Klosterman had three kills and Dorsten two aces during the run.
The Bulldogs' lead ballooned to 12 points midway through the first game before picking up the 15-point victory.
Wapakoneta put up a fight in game two leading all the way to 8-7 before Celina took over the rest of the way. Angie Fisher had eight straight service winners, including an ace, to push Celina on top 15-8. Maria Dorsten, Erin Dorsten, Cenzie Yoder and Klosterman all posted kills on the way to an 11-point win in game two.
Wapakoneta played even with Celina until about the midway point of game three when Meagan Stoker led the Bulldogs to a dominating finish. Celina led just 12-9 in the third game before Stoker took over serving and served out the game with 13 straight points. Stoker had four of her five aces in the third game.
"That was as good as I have seen Meagan serve this year," said Dammeyer of Stoker, who had 12 digs in addition to her strong serving. "I always tell the girls to serve to score a point. Serve hard and pick out the opponents' weaknesses....that's what we did tonight."
Yoder has had to battle an ankle injury early this season but had her best match of the year with a team-high 13 kills and team-high seven blocks. Erin Dorsten also played well in the middle alongside of Yoder with five kills and three blocks.
Klosterman had seven kills and Maria Dorsten contributed five kills and 16 assists while Morgan Weininger added three kills to go along with Fisher's 11 assists.
Celina is back in action on Saturday night with a matchup against Fort Recovery with the jayvees getting underway at 5 p.m.