Saturday, September 12th, 2009
St. Henry defense dominates with a shutout
By Mark Ruschau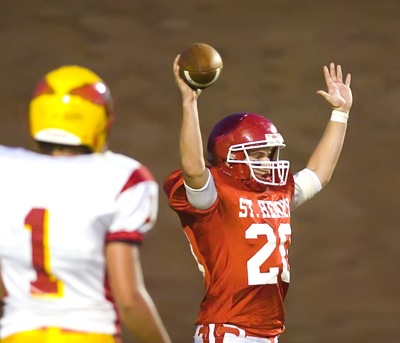 ST. HENRY - The St. Henry Redskins opened Midwest Athletic Conference play in dominating fashion as they defeated the New Bremen Cardinals 42-0 on Friday night at the Wally Post Athletic Complex.
With the win, St. Henry improves to 3-0 overall while New Bremen falls to 1-2.
Defensively, the Redskins totally bottled up the New Bremen offense as they not only pitched the shutout, but they also produced eight points on an interception return for a touchdown by Zach Fishbaugh and a fourth-quarter safety. The Redskins held the Cardinals to just 102 yards in total offense on 38 plays for an average of just 2.7 yards a play.
St. Henry dominated the line of scrimmage holding New Bremen to just 54 yards on the ground on 22 carries. Cardinals leading rusher Spencer Rohr was held to just 38 yards on 13 rushes.
"Rohr is a good, tough and physical back and he is capable of breaking a long run anytime, for us to keep him battled up, is a great credit to our kids," said St. Henry coach Jeff Starkey. "We did not do anything special, the guys did a great job of getting off their blocks and running him down to make the tackle. That was the big thing. I thought we did not do as good a job of tackling as we did last week but we were still able to get the job done."
"I knew it was bad, but I did not know it was that bad," commented New Bremen coach Rob Messick when confronted with his team's offensive numbers. "We just could not move the ball offensively, that was it. We were 5-for-17 passing, ran the ball for 38 yards and we averaged about two yards a play.
"We are not very good right now," continued Messick. "We have to figure out some things, like how to run the football on a consistent basis. We have one of the best backs in the area in Spencer Rohr, there is no doubt about it and he is having a very difficult time running the ball."
While the St. Henry defense did its job, the Redskin offense was hitting on all cylinders from the opening drive of the game.
The Redskins rolled up 375 yards of offense. Quarterback Brad Stahl had a career night as he completed 16-of-19 passing for 228 yards and three touchdowns. Stahl added two scores on short runs.
Victor Fortkamp was Stahl's favorite target as the 6-7 wide receiver grabbed four passes for 100 yards and two scores.
"We went no huddle at the beginning of the game, that is something that we have had in the playbook, but we have battled some injuries, so we haven't been able to do it as much as we like to do," said Starkey. "I thought Brad did a great job at quarterback tonight. I do not know what his numbers were, but he didn't have too many incompletions.
"It was good to see that we were taking what the defense was giving us," continued Starkey. "They were stacking the box against the run and we did a good job of getting the ball outside, and that's good to see. Victor is a good, tall athlete and it was good to see him get started well and make some outstanding plays."
The Stahl to Fortkamp connection was on display early in this one as on the first drive of the game, the two hooked up on two passes covering 62 yards, including a 54 yard touchdown on the second play of the game.
"St. Henry is very good, there is no doubt about," said Messick. "I know that the score looks bad, but we had three bad coverage's that gave them 18 points, that was it."
St. Henry takes to the road next with battle at Versailles while New Bremen returns home to take on the St. John's Blue Jays.