Monday, September 14th, 2009
Ohio State comes up short against Trojans
By Gary R. Rasberry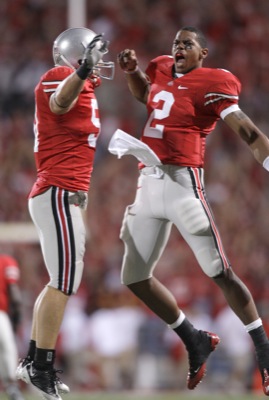 COLUMBUS - If Ohio State wanted to exorcise the ghosts of last year's humbling loss at Southern California, they would have to do so with defense.
The Buckeyes' defense did well for most of the game, but USC got a late touchdown to knock off the Buckeyes 18-15 in front of a jam-packed Ohio Stadium on Saturday night in a battle of Associated Press Top 10 teams.
The Buckeyes go into Saturday's in-state battle with Toledo in Cleveland Browns Stadium at 1-1 as the Trojans go to 2-0 on the season.
Ohio State's defense worked hard to put pressure on true freshman quarterback Matt Barkley. One key stat was the Trojans, who rushed for 342 yards in the season opener against San Jose State, were held to just 118 yards against the Buckeyes. Barkley had just one interception, a pick in the first quarter by Coldwater graduate Ross Homan.
"It was a great call (by coaches)," said Homan on his second career interception for the Buckeyes, and first since his freshman season in 2006. "I was just in my position and made the catch."
Ohio State forced USC to punt five times, and took advantage of a bad punt snap that went out of the back of the end zone in the third quarter that resulted in a safety and gave Ohio State a 12-10 lead. Aaron Pettrey added his second field goal of the game later in the third to make it 15-10 going into the fourth quarter.
It was on the final USC drive, coming after the Buckeyes elected to punt from the USC 36 rather than try a long field goal, where the Trojans began to break through the Buckeye defense. Barkley completed seven big passes and converted a fourth-and-1 from the Buckeye 28 to drive USC 90 yards over 6:10 with Stefon Johnson punching it in from two yards out to make it 16-15. Barkley then hooked up with Joe McKnight for the two-point conversion.
"They had great play calling," said Homan of the final USC drive. "They made plays. Our goal was to stop them. We didn't follow through with that."
"I mean, obviously it's a tough loss again, put on the big stage, we want to go out there and get the victory, we were feeling good and the last drive comes along and they just pounded it down our throats," said co-captain-linebacker Austin Spitler. "Obviously it's a tough loss. Have to bounce back, though, and understand that we played a heck of a team and we've got a bright future."
Southern Cal finished with 313 yards of total offense, nearly half of the team's total in the 56-3 win over San Jose State last week.
"Southern Cal had five or six returning linemen and a stable of backs and the young quarterback did a nice job at what he had to do and our defense was toe to toe," said Buckeyes coach Jim Tressel. "You feel for them because we needed to put more points on the board so holding them to 18 should be enough, but it wasn't."
Barkley was 15-of-31 passing with one interception, for 192 yards. The Buckeyes were able to sack him twice, once by Cameron Heyward and the other by Devon Torrence.
Homan was impressed with the former national high school football player of the year honoree.
"He was very mature," said Homan, who finished with nine tackles, one short of his career best. "He handled it very well. He's a top quarterback for them."
After losing 35-3 in Los Angeles last year to the Trojans, the fact the score was closer was not much of a consolation.
"It still hurts. We want to come out here and definitely wanted to win it for our fans and program," said Homan. "At least it was a fight, for us and for them. We'll learn from this and come back.
"We really have to try and finish the ballgame. For us, we have to put it on our shoulders to win it."