Friday, September 18th, 2009
Celina tops St. Marys in three
By Ryan Hines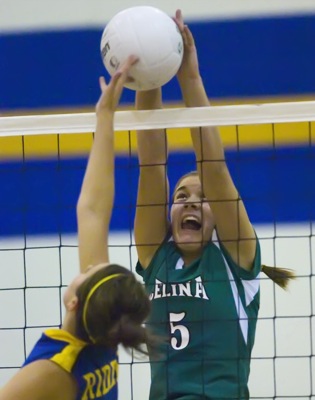 ST. MARYS - A tie for first place in the Western Buckeye League was on the line when the Celina volleyball team visited St. Marys for the annual Battle of Grand Lake on Thursday.
Celina dominated the first two games with wins of 25-14 and 25-10 before edging St. Marys in the third game, 26-24, to complete the three-game sweep.
The Bulldogs (9-2, 3-0 WBL) stay in a tie for first place in the WBL standings with Ottawa-Glandorf and Van Wert while St. Marys falls to 4-6 overall and 2-1 in league play.
Aggressive serving helped Celina to convincing wins in the first two games. The Bulldogs had eight aces combined in the first two games as Celina rolled to double-digit wins.
"I think that we served the ball well tonight and we were in the attack mode when it came to serving," said Celina head coach Carolyn Dammeyer. "We moved the ball around trying to find a weakness and when we found one, we attacked that spot."
Celina was facing a 3-0 deficit at the start of game one, but the Bulldogs' Maria Dorsten had a pair of aces to lead a five-point run that put the Green and White on top with a 5-3 advantage. The Bulldogs then led 15-11 when Meagen Stoker served up three straight aces during a seven-point spurt that gave Celina a comfortable 22-11 lead. St. Marys never threatened the rest of the way.
The Bulldogs led wire-to-wire in game two as Celina's service game continued to cause major issues for St. Marys.
"They served the ball really well and they are a good team," said St. Marys head coach Tricia Rosenbeck. "We didn't do a good job of serve receiving and it was tough to set up our offense when we were struggling with their serves."
Maria Dorsten served two aces and gave Celina a quick 5-0 advantage to start game two and the Bulldogs marched ahead to a 10-3 lead thanks to kills from Cassandra Chittum, Kelsey Mastin, Cenzie Yoder and Julie Klosterman.
It was a total team effort that helped Celina cruise to a 15-point win in game two and it showed in the final statistics. Yoder led Celina with eight kills and three blocks, Klosterman had five kills, 20 assists and three aces and Mastin added five kills and two blocks. Maria Dorsten had five kills 20 assists and four aces while Morgan Weininger and Erin Dorsten each had three kills.
"I think it puts a lot of pressure on the other team's defense when you have a balanced team and have so many different people that can get the job done when they are called on," said Dammeyer. "Everyone stepped up for us tonight and it showed in our balance."
A team effort is exactly what St. Marys got in game three as the Roughriders led a majority of the contest, which featured 11 ties.
St. Marys jumped in front 7-3 in game three thanks to a pair of aces from Joni Brown and two kills from Jenny Brown. Celina then won five of the next six points to tie the score at 8-8.
The two were tied at 10, 11, 12, 13, 14, 15, 16, 20 and 24 before back-to-back St. Marys mistakes, a service error and hitting error, allowed Celina to pick up the 26-24 win.
"I'm not quite sure why we didn't play our best in the third game," said Dammeyer. "I don't think that our serve was as good and we didn't play our best defense either. Winning a tight game is good for the girls though to show that they have to go out and execute our game in order to win."
"I thought that we played pretty well in the third game and fought the whole way," said Rosenbeck.
Celina is back in action again on Tuesday with a nonleague home match against Lehman.