Tuesday, September 22nd, 2009
Celina shoots its best round in WBL finale
By Gary R. Rasberry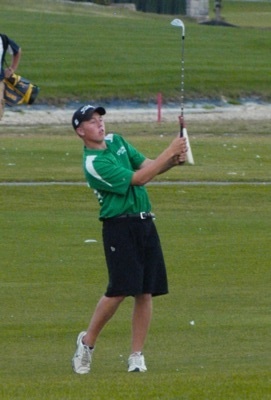 Compiled by Gary R. Rasberry

Celina rounded out Western Buckeye League boys golf play with its best round of the season in beating Ottawa-Glandorf 158-172 at The Fox's Den on Monday.
The win sends Celina into Thursday's WBL Tournament at Tamarac, outside of Lima, with a 3-6 record. The Titans finish league contests at 1-8.
The Bulldogs shot six strokes under their previous season best as three golfers broke 40 on the day.
Tyler Menchhofer earned medalist honors on the day with a 2-over 38. Darin Waterman and Austin Bell each finished a shot back at 39. Alex Ray rounded out the scoring for the Bulldogs with a 42 with Derek Waterman shooting 43 and Aric Fickert carding a 51.
Matt Hermiller was low-man of the day for the Titans with a 40.
Coldwater 176, Tri-Village 195, Fort Recovery 202
What was originally a Midwest Athletic Conference dual match became a trimatch at The Elks, with the Cavaliers getting the victory over both the Patriots and Indians.
Alex Kremer of Coldwater shared medalist honors with Fort Recovery's Jared Kahlig with matching 42s.
Coldwater got a 43 from Todd Reigelsperger and a 45 from Jordan Diller with Nick Fisher carding a 46.
Fort Recovery got a 49 from Derek Rammel and 55 from Shawn Roessner.
Ryan Maples led Tri-Village with a 47.
Coldwater also took the JV match with a 192. Tri-Village had a 228 and Fort Recovery a 254. Travis Goettemoeller of Coldwater was medalist with a 45.
Minster 148, Parkway 175
The Wildcats improved to 8-0 in MAC play, leading up to Thursday's battle with fellow conference unbeaten Versailles at Arrowhead with a win at Deerfield.
Craig Purpus shot a 35 to lead Minster. Ben Hogenkamp added a 36 and Austin Fischer shot a 38. Oliver Weaver and Adam Sherman added 39 and 40, respectively.
Brad Shafer shot a 40 to lead Parkway and Brandon Beeks added a 44.
Marion Local 171, New Knoxville 183
The Flyers downed the Rangers in a MAC match that was played at Arrowhead.
Andrew Kremer shot a 41 to take the medal and lead the Flyers. John Elking shot a 42.
Tyler Shreve had a 42 to lead St. John's and Addison Wolf carded a 43.
GIRLS GOLF
St. Henry 183, Versailles 221
The Redskins posted a season-low score in knocking off the Tigers at Stillwater to go to 5-2 in MAC play.
Ashley Kunkler led the Redskins with a 41. Kendra Rindler added a 45 with Morgan Breitigam posting a personal-best 47.
Amber Wehrkamp led the Tigers with a 43.
St. Henry travels to The Fox's Den to face Celina today.
Minster 212, Parkway 223
The Wildcats picked up their fourth MAC win of the season in beating Parkway at Arrowhead.
Parkway's Emily Winings was medalist with a 43. Abby Evans added a 55.
Kelly Mueller paced Minster with a 50. Stacy Bernard, Rachel Thieman and Josie Corbit added rounds of 54.
St. John's 193, Marion Local 226
The Blue Jays beat the Flyers on the back nine of The Elks on Monday in MAC play.
Abbey Martin of St. John's was medalist with a 45.
Lauren Subler led Marion with a 53 and Brooke Smith added a 56.
LATE BOYS GOLF
Delphos Invitational
Celina placed fourth out of 14 teams at the invitational at Delphos Country Club on Saturday, shooting a 344. Ottoville won the team title with 323.
Darin Waterman finished eighth on the individual leaderboard with an 83. Austin Bell shot an 86, Derek Waterman 87 and Alex Ray 88. Tyler Menchhofer added a 91.