Thursday, September 24th, 2009
Fire destroys Montezuma restaurant
By Margie Wuebker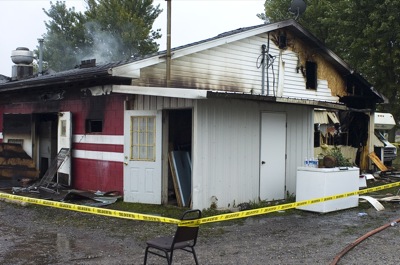 MONTEZUMA - Fire destroyed the recently remodeled Rumors at the Lake restaurant early this morning turning a one-block section of state Route 219 into a parking lot for responding fire department vehicles.
Local fire chief Dan Davenport said a passer-by reportedly spotted smoke rolling from the building at 6859 state Route 219 and placed a 911 call at 1:59 a.m. In addition to Montezuma, other fire departments responding to the scene were Coldwater, Chickasaw and St. Marys Township.
"Smoke was clearly visible when we arrived," Davenport told The Daily Standard from the scene between Montezuma and Windy Point this morning. "There were flames everywhere once we accessed a void between the two roofs."
The chief explained the original building, known for years as Doc's Inn, had a flat roof. New restaurant owners Mike and Angie Staugler of Maria Stein added a peaked roof during extensive remodeling completed this summer.
Flames erupted between the two areas complicating access for firefighters. They removed some new ceiling material and then sawed through the old roof to begin firefighting efforts. A 4:55 a.m. call made from the scene informed Mercer County Central Dispatch the blaze had been brought under control.
Davenport believes the building and its contents will be ruled a complete loss with a dollar figure to be set later in the day or early Friday.
"We do not think it was arson," he said. "However, we continue to investigate the cause which could be electrical or something else for that matter."
An investigator from the Ohio State Fire Marshal's Office will assist the department in terms of determining the cause and the origin.
The chief has yet to review the number of responding firefighters and trucks. The tanker relay did not have to travel far with needed water being pumped from the Windy Point channel less than two blocks away.
Mercer County Emergency Response Volunteers handled the traffic detail with a section of state Route 219 closed to anything but emergency vehicles for several house. An ambulance from Mercer County Emergency Medical Services remained on stand-by but was not needed.
Neighbors and interested bystanders quickly filled the Windy Corner parking lot next door, with more than a dozen spectators still on hand shortly before 10 a.m. this morning.
Becki Weitzel, who owns the fire-ravaged building along with her husband Chris, watched from a distance with cell phone in hand.
"A friend called me at 5 a.m. to tell me the building was on fire," she said. "The inside is gutted; everything is pretty well gone."
The Stauglers, who lease the building, remodeled the interior using a Hawaiian/Jimmy Buffett theme. They opened the restaurant specializing in home cooking in late May or early June.
The owners and tenants reportedly have insurance.