Friday, September 25th, 2009
Panthers hang tough but Flyers earn win
By Randy Bruns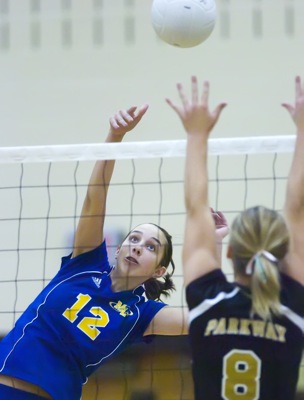 ROCKFORD - For three sets on Thursday night, the Parkway Panthers had the top-ranked Marion Local Flyers on the ropes, but the two-time defending state champions dug deep and hung on for a hard-earned Midwest Athletic Conference victory.
The Panthers became the first team this year to take a set from the Flyers and were within a whisker of going up two to one, but the Flyers rallied and went on to take the match by scores of 25-23, 17-25, 28-26 and 25-14.
The win improves Marion's season record to 13-0 and its MAC slate to 5-0, while Parkway falls to 11-5 overall and 3-2 in conference play.
The Panthers showed early on they were not intimidated by the Flyers, as a 9-3 early lead in game one got the home crowd into the game and infused the hosts with confidence. The visitors responded with a 9-3 run of their own to tie the match at 12-apiece, and it was back and forth from there.
Consecutive kills by Margaret Wuebker and Kelly Schlarman staked the Flyers to a 23-20 advantage, but the Panthers later got kills from Kelsey Bates and Emily Crowell to make the score 24-23. Senior Megan Schaefer saved the Flyers from going to extra points when she dove for an acrobatic save that was then fed to Alyssa Winner for a well-placed push that found the corner of the court.
In the second game, Parkway once again pushed out to an early advantage, but just like in the opener Marion rallied to tie the match, this time at 16-all. A hitting error by the visitors brought Tara Luth to the service line, and the senior came up big by smashing three aces in a five-point run that gave the hosts a 23-16 lead that they would not squander.
Game three was one for the ages, as each team had their chances but only one could prevail. The Flyers reversed their fortunes from the first two games by streaking out to a 14-8 lead after an ace by Leah Rosenbeck. But the Panthers later battled back and forced a 17-17 tie after a kill by Luth and six straight service points from Crowell.
Bates then got into the action with a block and a kill to give the hosts a 23-20 advantage, but a block by Kaylee Schaefer and two kills by Winner helped give the Flyers game point at 24-23. After the score was tied three more times the Flyers finally pulled out the win after Schlarman smacked a kill and Winner stuffed an errant Panther pass.
The finale was a little anticlimactic after the wild third game. This time the Flyers stormed out to a lead thanks to a pair of aces by Shelby Moeller, and by the time the diminutive senior was finished serving, her squad held an 11-4 advantage. The Panthers would get no closer the rest of the way, and Kaylee Schaefer later finished the match with an ace.
"I had a feeling this was going to be a tough match tonight," said Marion coach Amy Steininger, whose team was playing its third match in four days. "This has been a tough week for us, and we were able to find a way to win against a good Parkway team on their home court. We have to give them credit because we couldn't stop Emily Crowell, because it seemed like every time she hit the ball it was a kill. She's a great player and they're well coached, and I thought they played great tonight."
Parkway coach Jeff Marbaugh was of course disappointed with the loss but heartened by the fire his squad displayed.
"Both teams just played their butts off," said Marbaugh. "We had an opportunity in those first three games and we really battled back and forth in that third game. When you come out on the losing end after you thought you had it, it's tough to come out strong in that fourth game, but they kept playing hard that entire game. It's a tribute to Marion with how they came back, and that's why they haven't been beat."
The kill totals for both teams were distributed pretty evenly. Winner's 17 led the Flyers while Wuebker and Ashley Lochtefeld added 12 and eight, respectively. Bates paced the Panthers with 15 kills, while Crowell notched 14 and Luth had seven.
"We found a way to win, but it was very close," summed up Steininger. "We didn't play our best tonight, but we had some girls step up and I thought our middles (Wuebker and Lochtefeld) played well tonight. I told the girls that even though some of them didn't play their best tonight, it was some of those same girls that stepped up in pressure situations and made big plays."
Marion will face another stiff test on Saturday when it travels to Jackson Center to take on the fifth-ranked Tigers. Parkway gets a few days rest before hosting Van Wert on Tuesday.