Saturday, September 26th, 2009
Fort Recovery keeps Parkway winless
By Mark Ruschau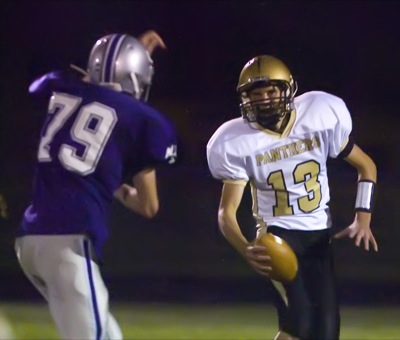 FORT RECOVERY - It was not exactly pretty, but the Fort Recovery Indians will take it.
On a night when Fort Recovery's offense and defense struggled with consistency, both units made just enough big plays to pave the way for a 21-9 Midwest Athletic Conference win over the Parkway Panthers on Friday night at Barrenbrugge Park.
With the win, Fort Recovery improves to 2-1 in the conference and 3-2 overall. The win for the Indians is significant in that it marks just the second time in school history that they recorded at least two conference wins in a season. Parkway falls to 0-3 in the MAC and 0-5 overall.
"I listed off all the bad things that we did tonight, but we won tonight and we won't give it back," said Fort Recovery coach Brent Niekamp. "This was a good win for us but we still have to get better, that is all there is to it."
On the defensive side, Fort Recovery gave up 353 yards of offense to Parkway, including 191 yards on the ground, but the Indians gave up just nine points. The key to the success of the Indians' defensive effort was that they were able to come up with the big stop when they needed.
In the first half, Parkway had the ball in Fort Recovery territory five times in five trips, but yet could garner just a 24-yard Riley Bransteter field goal on its final drive of the half.
"Overall I was pleased with our defense tonight," commented Niekamp. "I thought we ran to the ball well and we tackled pretty well. We did a good job of keeping things in front of us. We gave up a couple of big runs late and our pursuit lagged a little bit and that is something that we have to clean up."
"We missed some opportunities offensively in the first half and that is something that we have been struggling with all season," said Parkway coach Ed Kuhn. "We would get down in the red zone and then we would hold, or we would make a mistake and that would back us up and that was the way it seemed all night."
On the offensive side for the Indians, it was a night of big plays but they struggled to find a running game and consistency in the passing game. Fort Recovery quarterback Greg Kahlig completed 17-of-31 passes for 301 yards and three scores, with two of those completions went for 138 yards. In the running game, Fort Recovery managed just 48 yards on 16 carries and they had eight carries for one yard or less.
"We had a couple of dropped balls that would of been big plays, they played a tough man defense and we did not connect on them," said Niekamp. "We had a couple of third downs where we did not get the ball past the sticks when we should of. There were just little things tonight that we got to take care of, like running the ball when we need to."
"I really thought our defense did a good job tonight overall," said Kuhn. "We were able to keep Kahlig in the pocket for the most part tonight, but he was able to complete couple of big plays for scores. Kahlig is a good football player and Fort Recovery is a good football team."
The first two drives of the game were the game in microcosm. Parkway's Dylan Hartman recovered an on-side kick at the Fort Recovery 36. On the first play from scrimmage, Parkway quarterback Bryce Bedwell hooked up with Taylor Feasel for a 31-yard completion but Feasel coughed up the ball and it was recovered by Fort Recovery.
Starting on the Indians' own five, Kahlig hooked up with Michael Gaerke for a 60-yard completion to the Parkway 26 on the second play of the series, and four plays later, Kahlig found Nathan Keller for a 12-yard score.
Parkway returns home next week to take on Coldwater. Fort Recovery takes to the road next week, traveling to New Bremen.