Monday, September 28th, 2009
Times are busy for younger Homan
By Gary R. Rasberry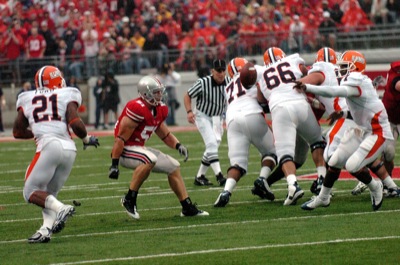 COLUMBUS - For the first four weeks of the football season, Adam Homan has only really had to worry about his work on the football field.
This past week, the reason he's at Ohio State came to pass:
The first day of classes.
The Fall Quarter at The Ohio State University got underway on Wednesday, and the freshman fullback from Coldwater hunkered down with school work.
Luckily, the first week of school presented a home game as the Buckeyes downed Illinois in the Big Ten opener for both teams at Ohio Stadium.
"It's a lot different," said Homan during postgame interviews at Ohio State. "First three weeks, we had pretty much all the time to prepare for a team all through the day. We had time to go watch film. Now, time is really spread out more. You have to go to class, go to tutors, we still have lifting and still have to find time to go in and watch some film.
"(The first week) went great. It was real exciting getting all the students back on campus. You can feel a different energy on campus and around Columbus."
Homan, who as of the preseason was undecided on a major, has had his share of work as the Buckeyes have started the season 3-1. In addition to playing fullback, mainly in a number of goalline situations, Adam Homan has played on special teams, working the kickoffs, field goals and PAT plays.
"I'm very grateful for that opportunity, to be able to be on special teams and get some opportunities to play at fullback," said Homan. "I'm grateful to the coaching staff for giving me a chance. I'm really focused on special teams, helping the team out there. We take great pride of that on the team and that's something we don't take for granted at all."
Homan graduated from Coldwater in December of his senior year in high school and enrolled to be able to take part in spring practice.
While Homan has yet to record a carry, he nearly had a chance to record not only his first career pass reception and score a touchdown when Terrelle Pryor tried to find him in the end zone late in the Buckeye's 30-0 win over Illinois on Saturday.
"We've been practicing that play all week," said Homan.
Helping out with the chores of getting everything together for classes and games is big brother Ross, who's in his fourth year in the OSU program.
"Whenever you have someone that's family on the team with you, to be there for you and show you the ropes, it's always a huge advantage."