Tuesday, September 29th, 2009
Celina cancer center feeling financial ills
Coldwater, St. Marys among 5 hospitals seeking help to keep their centers open
By Shelley Grieshop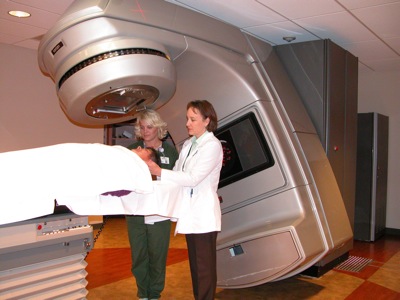 Five area hospitals - including ones in Coldwater and St. Marys - are seeking options to keep one of their two cancer centers from closing its doors due to financial woes.
High Point Regional Cancer Center in Bellefontaine has not recorded a profitable month since it opened in January 2004, says Chris Provaznik, managing executive for the Cancer Network of West Central Ohio. Its other center, Grand Lake Regional Cancer Center in Celina, remains profitable but also has begun experiencing financial shortfalls.
"We've worked hard to reduce costs at High Point," Provaznik says. "But we can't keep losing money forever."
Officials say the problem lies with insurance companies unwilling to reimburse for services and the current poor economy. Recent figures show High Point is posting annual losses of more than $500,000.
At the Grand Lake center in Celina, its year-to-date net income as of July 1 - the most recent figures available - was a loss of $52,000. However, recent months reportedly have been positive.
Cash flow is a big problem at both facilities, Provaznik says.
"We're seeing more and more patients without insurance" due to job losses, she adds.
Another issue lies in the cancer centers' identity as "free-standing" facilities. Because they are not located within a hospital, some private insurance companies hesitate to pay for some patient services, Provaznik says.
Fortunately, government reimbursements through Medicaid and Medicare have been more reliable, she adds.
The cancer network's board recently created a task force to establish a long-term plan to address the financial problem at High Point, she explains.
"The board is trying to do the right thing. They want to serve the Bellefontaine area the best they can," she says.
Both cancer centers were developed through the West Central Ohio Regional Healthcare Alliance (WCORHA), which was established in 1994 to provide medical services to the communities served by its members. Member hospitals include Mercer Health based in Coldwater; Grand Lake Health Systems based in St. Marys; Mary Rutan Hospital, Bellefontaine; Van Wert County Hospital; and St. Rita's Medical Center, Lima.
Each member (hospital) is invested equally in the cancer centers and has a stake in their success. CEOs from all five hospitals serve on the cancer network's board.
The $6.8 million center in Celina is a sprawling 24,000-square-foot building along Havemann Road. It recently acquired its first full-time, on-site oncologist. While that is a definite plus for patients, it's a costly venture for investors and has led to a lower profit margin, Provaznik says.
High Point does not yet have a full-time oncologist on-site but employs several who treat patients at the center on a part-time basis, she adds.
Both facilities also employ a variety of board certified specialists who offer services for cancer patients.
The goal of the cancer network is to work through the financial setbacks and continue to offer top-quality services to the people in the local region, Provaznik says.
"There are other facilities out there but most are more than an hour's drive away for the people we serve," Provaznik says. "We don't believe that's an acceptable option."